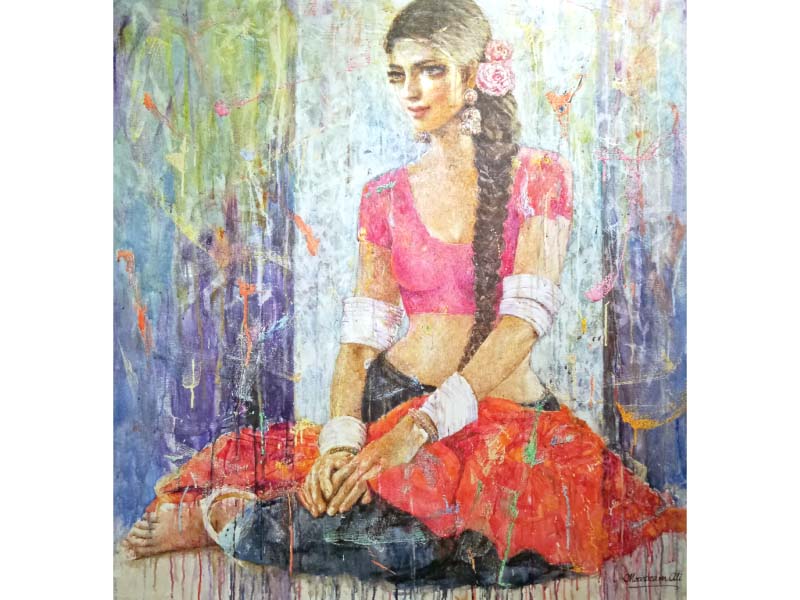 ---
LAHORE: An exhibition of 37 paintings and sketches by Moazzam Ali - also known as the master of watercolour - is on display at the Ejaz Art Gallery. The show will continue till May 6.

"My artistic works are inspired by people who have traditional features, attractive dresses and have thousands of years of the Indus Valley Civilisation's culture on their side. This makes them different from others," Moazzam told The Express Tribune.

"If you look at my work, you can clearly see that I go to the soul of my figure, for instance, contemporary Thari women," he added.

Talking about his technique, the many artists find little flexibility in the watercolour medium and the painter is trapped in its boundaries.




"Since my work demonstrates that water colour is a very flexible medium, I can move my paintings as I wish, such as changing cold colours to hot or hot to cold and back again at once, using other elements such as textures lines, shapes light, while at the same time maintaining the transparency of the medium," he explained.

Furthermore, he brought developments by painting water colour on canvas which is rarely seen, he added. "I researched and found ways to bring similar textures and bright bold strokes on my canvas and preserve the colour on it," he said.

According to Mozzam, he started and continued painting for many days when he felt inspired.  "I contemplate and put in a lot of effort to create the first couple of paintings. Then, as the rhythm starts to build up, a great amount of flow and force is created and paintings are born effortlessly," he said.

For the artist, every line, brush and stroke have their own significant value and once he was in the momentum, his work comes out perfectly balanced. "The first few seem to me like 'Raag Se pehle Alaap', the preliminary melody that sets the tone for the real song to follow," he said.

Published in The Express Tribune, May 2nd, 2017.
COMMENTS
Comments are moderated and generally will be posted if they are on-topic and not abusive.
For more information, please see our Comments FAQ