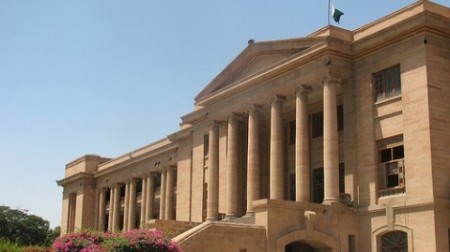 ---
KARACHI: The Sindh High Court expressed its dissatisfaction on Monday with the "evasive" comments filed by the federal interior ministry in the case of a man who went missing from Karachi.

A petition was filed by Sher Alam, who has been looking for his brother Hazrat Ali. His lawyer submitted that Hazrat Ali was picked by men from lawenforcement agencies, who informed the family that they had come from Islamabad. He was taken from his construction material shop in North Karachi on May 25, 2009. The men who took him away also obtained the biodata of his family members. His brother has named the federal and provincial interior ministries, the Sindh police chief, the DIG (investigations) of Karachi and the chief of the CID in Karachi as respondents.

The division bench comprising Justice Amir Hani Muslim and Justice Syed Zakir Hussain directed the Interior Secretary to specifically inform it whether the detenue was detained by the Frontier Constabulary in Mohmand Agency, FATA. On Monday, the Deputy Attorney General submitted comments on behalf of the secretary of interior, stating that the detenue was not arrested or detained by any of the 15 departments or agencies, including the FIA, ICT, working under the administrative control of the ministry. Other forces such as the Frontier Constabulary Khyber- Pakhtoonkhwa, had no legal powers to take people into custody.

In case of arrests, they were not required to be handed over to the local police. The secretary submitted that a report was called from the FC, which stated that it was not deployed in Mohmand Agency. He prayed the court to exempt the Interior Ministry from the list of respondents. CID's chief in Karachi also filed comments, denying the allegation that they had misued their official powers and detained or arrested Hazrat Ali. The SHC division bench heard the arguments and said: "We are not satisfied with the evasive comments filed on the part of the Interior Ministry.

We direct the Secretary of Interior to respond to the query made by this court by filing comments, stating whether detenue Hazrat Ali is in the custody of the Frontier Constabulary of Mohmand Agency or not. Additionally, the (Sindh) Home Secretary shall ensure that the comments reach [the court] by the next date. This order has been passed in the presence of the DAG and AAG, who will communicate the order to [all who are] concerned." The hearing was adjourned to June 4.

Published in the Express Tribune, May 18th, 2010.