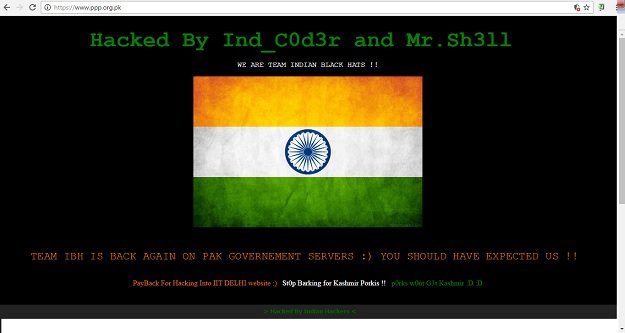 ---
Pakistan Peoples Party's official website was allegedly hacked on Wednesday by Indian hackers.

"Team IBH is back again on Pakistan government servers. You should have expected us," a message on the website read. The party however, recovered the website shortly after the attack.

Lahore district govt website defaced by 'Indian hackers'

The attack which came in retaliation to alleged Pakistani hackers targeting Indian websites, was carried out by a hacker group called Ind_C0d3r and Mr Sh3ll.




The PPP web portal showed an image of the Indian flag with some messages for Pakistan. "Stop barking for Kashmir," the message read.




Indian and Pakistani hackers have been constantly hacking eachother's websites. In February, the web portal of Lahore district government was allegedly hacked by Indian hackers. The attack was carried out by a hacker group called IND 3MB3R.