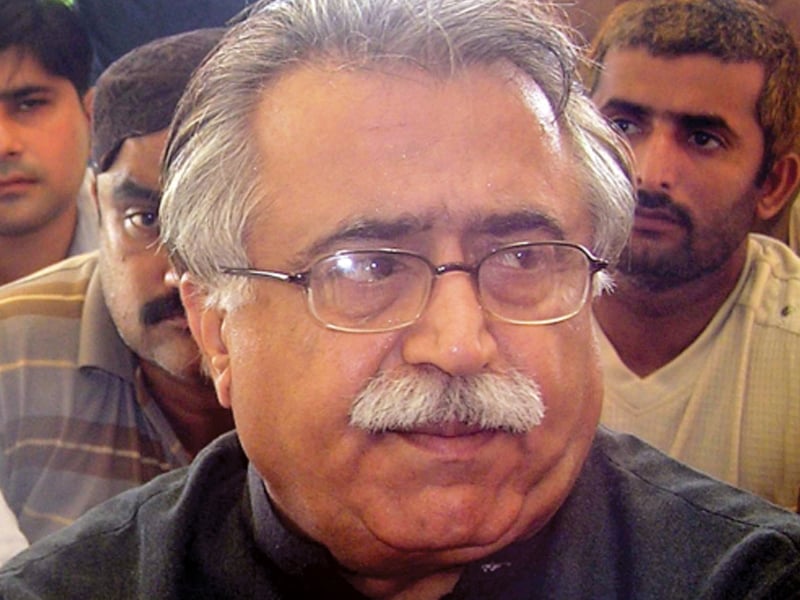 ---
HYDERABAD/KARACHI: PPP leaders and workers staged demonstrations in different districts of Sindh on Sunday to demand Prime Minister Nawaz Sharif to resign and decried water shortage and power outages.

In Hyderabad, protesters carrying the effigies of Sharif and Federal State Minister for Water and Power Abid Sher Ali protested outside the office of the Hyderabad Electric Supply Company.

Speaking at the protest camp, PPP's central information secretary Moula Bux Chandio alleged that the Supreme Court had indirectly declared Sharif a liar who concealed facts from the court and submitted bogus documents.

Panama verdict: SC judge dubs media debate 'ill-informed'

"Panama ke chor ko aik dhaka aur do [give one more push to the thief of Panama]," chanted Chandio, as other PPP supporters followed.

He emphasised that though all judges in the Panama case bench did not order disqualification of the PM, they were in unison that Sharif is a 'liar'.

"He [Sharif] has lost the right to remain prime minister anymore." Chandio also warned state minister Abid Sher Ali that PPP workers would no longer tolerate his acerbic and abusive language during his visits to Sindh.

The PPP's information secretary also criticised the Pakistan Tehreek-i-Insafs Chairman Imran Khan, dubbing him an amateur in politics. "Senior politicians joining the PTI should teach etiquette of politics [to Imran]," Chandio suggested.  The protesters also shouted slogans, complaining about extended hours of scheduled and unscheduled load-shedding. The water shortage in Sindh also drew a rebuke from the demonstrators.

In Mirpurkhas, Nawabshah, Thatta, Umerkot and other districts as well, PPP local leaders took out demonstrations in which hundreds participated.

Meanwhile in Karachi, senior provincial minister Nisar Ahmed Khuhro led the demonstration against the prime minister and held him responsible for depriving the people of Sindh of basic necessities like water, electricity and gas.

Addressing protesters in District West, he, criticising the policies of Nawaz Sharif, said, "The people of Sindh have started chanting slogans like 'Go, Nawaz Go!' from today which would be transformed into a movement against the government."

Khuhro remarked that the slogan would echo from every street and corner now and reiterated that the accused had no right to hold the highest office in the government.

Marriyum Aurangzeb congratulates Imran for PM's 'victory' in Panama case

He advised the prime minister to resign. "The 'Go, Nawaz Go movement' will continue until the departure of Sharif," he said while reiterating that the people of Sindh have the first right on water, electricity and gas.

"We won't allow the PML-N to steal the resources of Sindh," he said and added: "The PML-N government is taking a revenge on the Sindh people for not voting for the ruling party in last elections."

"Sindh has been producing 70 per cent of total production of gas, still the people of Sindh have been deprived of this resource, whereas Punjab has been producing only 2.0 per cent of natural gas but they have been getting more gas than Sindh. "We won't accept double standards of the federal government."

Published in The Express Tribune, April 24th, 2017.
COMMENTS
Comments are moderated and generally will be posted if they are on-topic and not abusive.
For more information, please see our Comments FAQ