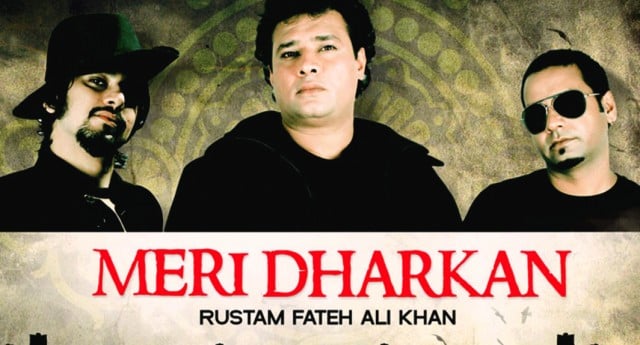 ---
LAHORE: The Patiala gharana's younger descendents are making a name for themselves abroad. Rustam Fateh Ali Khan, Ustad Fateh Ali Khan's son, has just released his first solo album in India.

Meri Dharkan, which was launched in Mumbai by Worldwide Records last week, features 11 tracks. However, there are no immediate plans for an album release in Pakistan, yet another sign of the problems with releasing records in Pakistan. Several musicians' albums have been delayed for months on end because of the reluctance of Pakistani record labels to release them. Khan told The Express Tribune that he had decided to launch his first solo album in India because it was a key market for music.

"The music infrastructure is very good in India and they are better with property rights," he said. "The album is called, 'Soulful melodies in Sufi and classical style from Pakistan,' he said. The album features a mix of different genres, including qawwalis and pop-rock songs. Khan, who also wrote lyrics for the album, told The Express Tribune. "There is a motivational song in the album too.

The main line is: 'Chalo Ye Sochien Hum Aaj Mil Key'. The song is about the current prevailing situation of Pakistan and invites listeners to think on why the things went so bad in the country," he said. Other artists featured on the album include Usman Rana on guitars and Imran Danish on bass. Rustam Fateh Ali Khan said that he had been approached by Indian film producers who wanted to feature some of his songs for Bollywood movies but he didn't agree as they would then own the rights to those songs.

"I decided to not give my songs for any Indian movies because by doing that that I would not be able to include that song in my album. Now if someone wants to take my song for a movie, they can because it would be from my album," he said.

Published in the Express Tribune, May 18th, 2010.