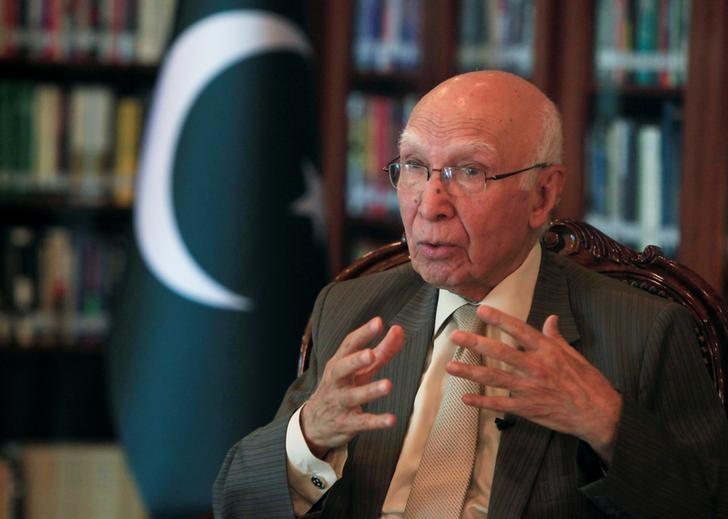 ---
Pakistan on Friday put up a strong defence of the death sentence awarded to the Indian spy by an army court, revealing for the first time the full charge sheet as well as timeline of the proceedings against Kulbhushan Jadhav.

While strongly rebutting Indian allegations that Jadhav was not a spy and that due process of law was not followed in his trial, the underlined message from Adviser on Foreign Affairs Sartaj Aziz was that both the sides needed 'diplomacy' to defuse the brewing tensions before they become even more serious.

His press conference came just hours after Indian High Commissioner Gautam Bambawale met Foreign Secretary Tehmina Janjua in a sign that the two countries are not giving up diplomatic efforts to resolve the crises.

The death sentence awarded to Jadhav sparked an immediate outcry in India that raised questions about transparency of the trial, calling the court marital of the RAW agent as 'premeditated murder'.

Self-confessed Indian spy awarded death sentence

Responding to the Indian accusations, the PM's adviser gave detailed insight into the controversy surrounding the Indian spy. For the first time, the government also made public details from his arrest to interrogation and from the trial to the army court verdict.

Previously, authorities in Pakistan did not share specific charges against Jadhav. The only piece of evidence available was his confessional statement in which he admitted that he was working for RAW to create instability and unrest in Pakistan, particularly in Baluchistan and Karachi.

India rejected the charge sheet and insisted that Jadhav was not working for RAW, though acknowledging that he was a navy officer.

The adviser now debunked the Indian stance by sharing full details of the issues related to the RAW agent.

"I would like to ask India why Kulbhushan Jadhav was using a fake identity impersonating as a Muslim? Why would an innocent man possess two passports, one with a Hindu name and another with a Muslim name?" the adviser asked.

He said since India had no credible explanation about why their serving naval commander was in Balochistan, it had unleashed a flimsy propaganda campaign.

"Inflammatory statements and rhetoric about 'premeditated murder' and 'unrest in Balochistan', will only result in escalation, serving no useful purpose."

Pakistan followed due legal process in Jadhav's trial: Khawaja Asif

Giving details, Aziz said Jadhav was sponsored and directed a series of terrorist attacks -- including IEDs and grenade assaults in Gwadar and Turbat. He was also accused of being behind the attack on the Radar station and civilian boats at the sea opposite Jiwani port.

The charge sheet further reveals that Jadhav also funded subversive secessionist and terrorist elements through Hawala/Hundi for subverting Pakistani youth against the country, especially in Baluchistan.

He was charged with sponsoring bombing of gas pipelines and electric pylons in Sibi and Sui areas in Baluchistan while he was also involved in an IED explosion in Quetta in 2015, causing massive damage to life and property.

Jadhav, according to the charge sheet, was also found involved in attacks on Hazaras in Quetta and Shia Zaireen en route to and back from Iran.

Similarly, the RAW agent abetted attacks through anti-state elements against law-enforcement agencies -- including the Frontier Corps and the Frontier Works Organisation in Turbat, Punjgur, Gwadar, Pasni and Jiwani during 2014-15, killing and injuring many civilians and soldiers.

India will go out of its way to save Jadhav from death row: Sushma Swaraj

India, while denouncing the death sentence, expressed its dismay that Pakistan neither granted consular access to the detained spy nor gave prior information about his trial.

Aziz, however, disputed the Indian claim, saying Pakistan approached India on January 23 to seek specific information and access to key witnesses. There had been no response from India so far, the adviser added.

"We condemn the baseless allegations from India, especially in the light of the fact that it was non-cooperation and lack of Indian response to Pakistan's request for legal assistance due to which consular access has not been provided to Mr Jhadav," Aziz said.

"May I mention in this context that India has not allowed consular access to many Pakistani prisoners for many years despite repeated [Pakistani] requests."

Kulbhushan Jadhav will not be extradited, Sartaj assures lawmakers

Another issue being raised by India is that due process of law was not followed and termed the trial of Kulbhushan 'sham'.

The PM adviser, however, vehemently dismissed the Indian concerns, saying all 'legal formalities' were followed and he was convicted according to law of the land.

Giving timeline of the events since the arrest of the RAW agent, Aziz said his confessional statement was recorded on March 25, 2016.

Initial FIR was lodged by the Counter-Terrorism Department in Quetta on April 8. Detailed interrogation was carried out from him on May 22 and subsequently a joint investigation team was constituted on July 12 for further probe.

On July 22, his confessional statement was recorded under Section 164 of the CrPC while recording of the summary of evidence was done on September 24.

Army chief vows to pursue Kulbhushan case to finish

The first proceeding, according to the PM adviser, held on September 21, second on October 19, third on November 29 and fourth and last on February 12 2017. His death sentence was endorsed by Army chief Gen Qamar Javed Bajwa on April 10.

The proceedings were conducted under the Law of Evidence in the competent court while a law qualified filed officer was provided to defend him throughout the court proceedings.

All statements of witnesses were recorded under oath, in the presence of the accused, in the court.

Similarly, Jhadav was allowed to ask questions from witnesses. During the trial, a fully qualified, law officer of Judge Advocate General (JAG) branch remained part of the court.

After Jadhav's conviction, hope for talks dims

The adviser pointed out that Jhadav had the right to appeal within 40 days to an appellate court. He may lodge a mercy petition to the army chief within 60 days of the decision of the appellate court.

In case his mercy petition is rejected by the army chief, he can make a similar request to the president within 90 days after the decision of the army chief.

Aziz said Pakistan "expects India to behave responsibly and refrain from issuing statements that will further aggravate people-to-people hostility".

"More active diplomacy is; therefore, needed to arrest the growing crises in India-Pakistan relations before it becomes even more serious."

Meanwhile, speaking to reporters after meeting the foreign secretary, Indian High Commissioner Gautam Bambawale said he asked for certified copies of the charge sheet as well as the army court's verdict against Jhadav.

Analysis: Kulbhushan Jadhav's RAW move

The HC said he also renewed India's demand, seeking consulate access to the condemned spy.

In an official handout, Foreign Secretary Tehmina Janjua told the Indian envoy that the rhetoric in the Indian parliament was unwarranted and only added fuel to hatred against Pakistan which was not conducive for promoting cordial ties between the two countries, in accordance with our prime minister's vision for peace in the region.