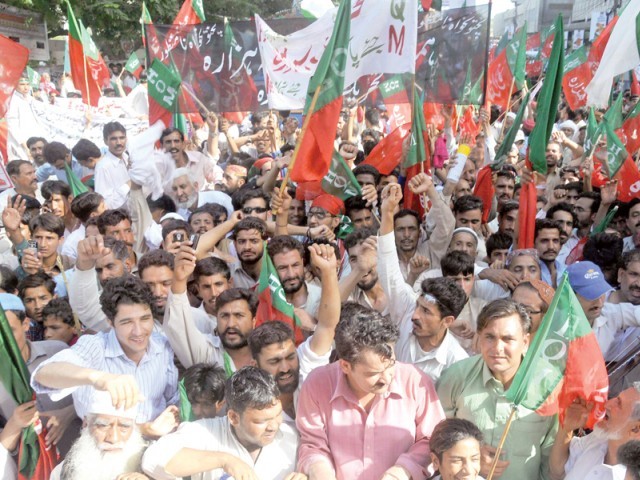 ---
ABBOTTABAD: A number of political parties will observe the seventh anniversary of the Hazara province movement in Abbottabad on today (Wednesday).

The Tehrik Suba Hazara Party (TSHP), led by Baba Haider Zaman, will organise the main event on Jinnah Road in Abbottabad. Seraiki province leader MNA Jamshed Dasti, the proponent of provincial status for Federally Administered Tribal Areas (FATA) MNA Dawar Kundi, are expected to speak at the event.

Moreover, local leaders of Pakistan People's Party (PPP) and some other political parties are also expected to express their solidarity with the movement by joining the main public gathering.

Meanwhile, the Hazara Awami Itehad party is expected to organise a prayer ceremony at the Mansehra Press Club for those who had been killed during a police action in Abbottabad on April 12, 2010.

The Suba Hazara Tehrik, a splinter group of the TSHP, is expected to hold a news conference in Islamabad where the groups' leader Federal Minister for Religious Affairs Sardar Muhammad Yousaf would speak.

The movement for separate Hazara province emanated from opposition to a resolution backed by the Awami National Party for renaming the then North West Frontier Province (NWFP) as Khyber-Pakhtunkhwa.

Zaman had led the procession in favour of the Hazara province which was baton-charged by police. The protesters were then allegedly fired upon by police. As a result, seven pro-Hazara province activists were killed while 104 others were injured.

The death of the protesters led to fully-fledged movement for a new province which was later joined by some Hazara-based political big shots such as Gohar Ayub Khan, Amanullah Khan Jadoon, Mushtaq Ahmed Ghani, Yousuf Ayub, Omar Ayub, Dr Raja Amir Zaman, Sardar Muhammad Yousuf, Shehzada Gustasib Khan, Syed Qasim Shah, Dr Azhar Jadoon.

However, these political parties later parted ways from the movement.

The Pakistan Muslim League-Nawaz (PML-N), PPP, Jamiat Ulema Islam-Fazl (JUI-F), Pakistan Tehreek-e-Insaf (PTI), Jamaat-e-Islami (JI) and the Muttahida Qaumi Movement (MQM) had all supported the demand of creating a Hazara province before the 2013 general elections. But none of these parties honoured their promises.

Left with only a few workers Zaman and Yousaf kept the movement alive, but from separate platforms. During 2015, the Khyber-Pakhtunkhwa assembly adopted a resolution in favour of Hazara province but constitutional experts termed it ineffective as it was not adopted by a two-third majority, a constitutional requirement.

Zaman, while commenting on the anniversary, said that they were marking it against the 'traitors' of Hazara who had cheated the people over the past seven years.

"They used the name of Hazara province for bagging votes," he said pointedly without naming anyone.

He added that it was not difficult for either the PTI or the PML-N to honour their promises since they were in power and enjoyed a majority in their respective assemblies, but he lamented that they were not serious.

However, Zaman claimed that the people of Hazara were now politically mature and would not fall for hollow promises anymore.

Published in The Express Tribune, April 12th, 2017.
COMMENTS
Comments are moderated and generally will be posted if they are on-topic and not abusive.
For more information, please see our Comments FAQ