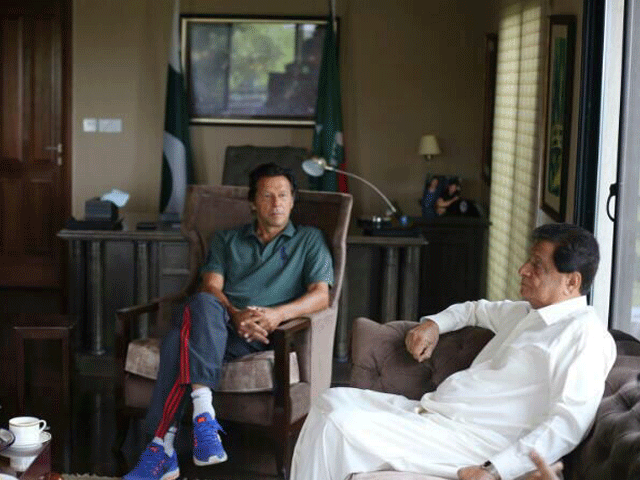 ---
KARACHI: Former Sindh chief minister Liaquat Ali Jatoi has joined the Pakistan Tehreek-e-Insaf (PTI).

The leader of Awami Ittehad Party met PTI chairman Imran Khan and Jahangir Tareen in Bani Gala, Islamabad earlier today.

"Liaquat Jatoi held a meeting today with Imran Khan in Bani Gala and joined PTI," confirmed Dawa Khan Sabir, a PTI Sindh leader.

Four members of PML-N join PTI

Jatoi has served as CM Sindh from 1997 to 1998 while representing Pakistan Muslim League-Nawaz (PML-N). He had been winning elections from his ancestral seat in Mehar Tehsil of Dadu district since 1977.

The veteran politician also served as provincial minister of finance, excise and taxation during different tenures.

Following the 1999 coup, during which Nawaz Sharif's then government was overturned, he joined PML-Q led by Chaudhry Shujaat Hussain.

In 2002, Jatoi was elected to the National Assembly and later inducted into the federal cabinet as a minister in Musharraf's government. Initially, he held the portfolio of minister of industries but was then made minister for water and power.

He lost his seat in 2007 when PPP leader Benazir Bhutto was assassinated. During the general elections in 2013, Jatoi was declared a runner-up candidate in PS-76 Dadu, a decision he challenged in the election tribunal with evidence of alleged rigging. The tribunal, subsequently, gave a verdict in his favour but he had to leave the seat on a court order.

Jatoi announced the revival of his Awami Ittehad Party in 2014 after his estrangement with PML-N. At the time, Jatoi had claimed that he could either join the PPP or any other party before he revived his own party.

Haleem Adil Sheikh joins PTI

Interestingly, he had also previously endorsed the demands of PTI advising PM Nawaz to resign for the sake of a transparent election investigation but he never joined the party.

Following his induction in PTI on Thursday, Jatoi and the PTI leadership has also announced to hold a political rally in Dadu, a PPP stronghold, on April 22.

Last year, a prominent lawyer and popular television host Naeem Bokhari joined PTI, while four members of PML-N joined PTI ranks in February 2017.
COMMENTS (2)
Comments are moderated and generally will be posted if they are on-topic and not abusive.
For more information, please see our Comments FAQ