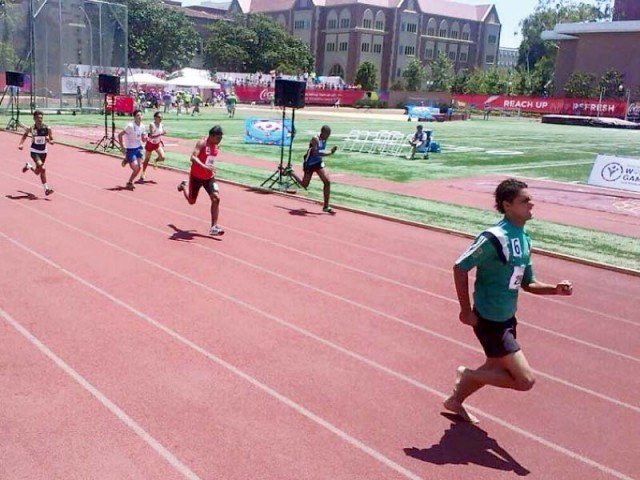 ---
GILGIT: While the Gilgit-Baltistan government may have overlooked the accomplishments of three special Olympians from the region who won silver and bronze medals at the recently concluded 2017 Winter Games in Austria, the Punjab chief minister has been quick to acknowledge their heroics.

Punjab CM Shehbaz Sharif this week invited the three Olympians Tehmeena, Hameezuddin and Pervez, who hail from Gilgit-Baltistan (G-B) to visit Lahore and attend an official ceremony where they would be awarded cash prizes for their accomplishments at the Winter Games.

Pakistan win 11 medals in Special Olympics World Winter Games

The invitation from the Punjab government comes days after the special athletes returned to G-B where they had received a warm reception from the public.

However, their triumphant return failed to raise government eyebrows who did not announce any incentives - financial or otherwise.

The lack of response from the government even drew scathing criticism from the public. Deputy Speaker of the Legislative Assembly Jafferullah Khan though announced that he would pay the athletes Rs5,000 as prizes from his own pocket.

"They have left Gilgit for Lahore to receive awards from Shehbaz Sharif," Ghazala Yasmeen told The Express Tribune on Wednesday.

Yasmeen is the principal of the Mehnaz Fatima Montessori and inclusive education centre, the institution in Gilgit where Hameezuddin and Tehmeena study in grades seven and five respectively.

"It is an honour for us as well that our students brought laurels for the country," said Yasmeen whose school had arranged training for the Olympians in G-B, Karachi, Lahore and Abbottabad over the past three years, enabling them to clinch the medals.

The special Olympians won big at the international sporting event where 3,000 athletes from 110 countries took part.

On their journey to Lahore, the Olympians are being accompanied by their instructor Amina Parveen, an expert in coaching special children.

Pakistan win more medals in Special Olympics World Winter Games

Earlier Pakistan Super League team Peshawar Zalmi's owner Javed Afridi had announced a cash award worth Rs100,000 for each Olympian.

Won big with few resources

The Olympians belong to poor families in G-B, a region where investment on special children is generally considered as 'useless' given the prospect of their earning back.

Even at the school where Hameezuddin and Tehmeena study, they and 60 other special students receive education almost free of cost – a contribution rarely acknowledged in G-B.