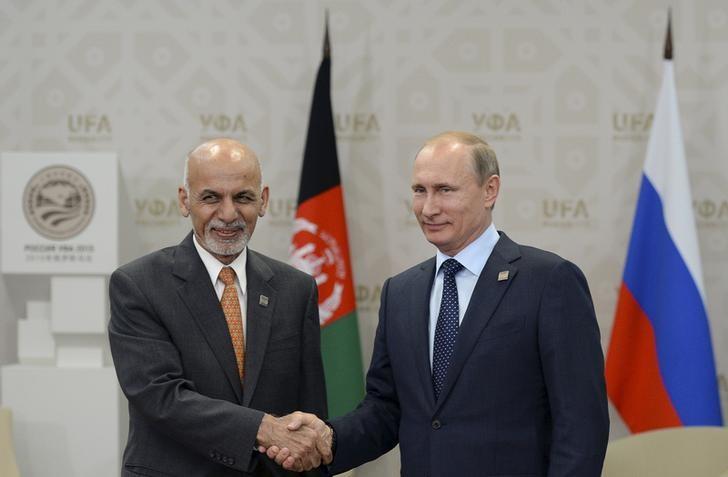 ---
Global militant group Islamic State has a simple game-plan - to first establish its strict version of Islam in Muslim countries and then conquer other parts of the world to purge them of what it calls 'ignorance'. And that is why its presence in the Nangarhar province of Afghanistan is a source of concern not just to Pakistan, but to countries as far as Russia and China.

Since 2015, when it first made a public appearance in Afghanistan, Islamic State has proved its growing power with deadly attacks in the country and neighbouring Pakistan. Already in cahoots with Tehreek-e-Taliban Pakistan, the militant group has extended its influence by establishing alliances with Lashkar-e-Jhangvi, Islamic Movement of Uzbekistan and militants from China and Central Asian Republics (CARs).

How strong is Islamic State in Pakistan?

With regional rivalries and instability in Afghanistan providing a conducive environment for Islamic State to grow, stakeholders have decided to come together to address the growing menace before it is too late. In this regard, Russia will be hosting a 12-party conference this month with the aim to start peace talks between Afghan Taliban and the Kabul government. Though the US has turned down the invitation to attend on the pretext that Washington was not consulted in advance, representatives from Pakistan, Afghanistan, China, Iran, India and several CARs will attend the consultative meeting in Moscow. Participation of Afghan Taliban is uncertain at the moment but they have shown willingness to talk to Kabul.

Russian interest in Afghanistan

Russia is concerned about Islamic State's growth in Afghanistan due to its proximity to CARs. Russian envoys at the UN and in Kabul have expressed their fears in this connection several times; Moscow maintains the militant group has regional ambitions.

Russia detains man over IS-claimed attack on Chechen base

Secondly, the withdrawal of Nato forces from Afghanistan and confusing US policy for the country has created a power vacuum in Afghanistan which Russia is interested in filling to avoid turmoil in its immediate neighbourhood. It fears that in the case of an unstable Afghanistan, terrorism would finally hit Russia which has a large Muslim population.

Russia is also interested in the economic projects aimed at connecting the entire region such as China-Pakistan Economic Corridor and the Central Asia Regional Economic Cooperation Program both of which need a stable Afghanistan to work.

Drug trafficking into Russia through Central Asian countries that share borders with Afghanistan is another major worry for Moscow. Afghanistan supplies 90 per cent of the global opiate stock and producers target Russia as one of the largest markets in the world.

Why is this meeting needed? 

Mistrust and differences between regional and international players are not only delaying establishment of peace in the region but also fuelling terrorism – all stakeholders, be it from the region or the West, share the same strategic goal of stability but disagree on tactical front which is proving counterproductive to the ongoing counter-terrorism efforts and raising the level of threat.

No end to terrorism without better Pakistan-Afghanistan-India ties

Suspicion between the players is no secret – Pakistan, Afghanistan and India blame each other for destabilising their countries while Russia accuses the US of supporting Islamic State in Afghanistan and Washington claims Moscow is supporting the Taliban.

In this atmosphere of finger-pointing, it is important for all concerned countries to come together, address each other's concerns and chalk out a coordinated plan for peace which reconciles everyone's strategic and tactical goals.

Chances of success 

The ideal outcome of the upcoming Moscow conference would be to unify international support and create an environment to promote the Afghan peace process.

Fortunately, Kabul and Taliban have given positive signals for the resumption of talks which were stalled after the news of Taliban chief Mullah Omar's death was made public in 2015. Further, Pakistan and Afghanistan have already held talks in London agreeing over the mechanism for addressing each other's security concerns. Coordination with Russia, China, Iran and CARs is also on the right track. Despite difference with Moscow, Washington is likely to come on board.

Pakistan, Russia and China inch closer to formal alliance

The toughest task would be the Islamabad-New Delhi ties; the last two meetings in Moscow in some way reduced differences between the two countries over the peace process in Afghanistan but certain long-standing issues such as Kashmir are still an irritant. Tehran, Moscow, Beijing and Washington need to play their role in reducing tensions between the two South Asian neighbours, making them cooperate on peace initiatives and resuming dialogue.

Imdad Hussain is an Islamabad-based journalist specialising in diplomatic and security issues.