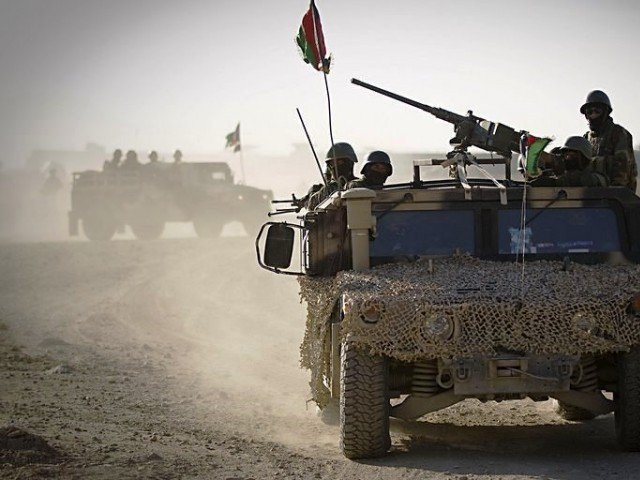 ---
ISLAMABAD: For well over two decades, Islamabad and Moscow competed against each other to pursue their interests. But that is history now. The two are all set to become part of a possible alliance in a dramatic turnaround in their otherwise frosty relationship for decades.

What has compelled Pakistan and Russia to join hands is apprehensions that the United States may not be interested in bringing stability to Afghanistan for its own strategic interests.

These fears have now opened up the possibility of an alliance between Pakistan, Russia and China in an unprecedented development that will shape the future of this volatile region.

Interaction with military and Foreign Office officials revealed that the three countries are inching closer to formalising their relationship with an aim to bring regional stability particularly seeking a political solution to the Afghan war.

All of them who spoke off the record in order to give more candid perspective said Pakistan as well as China and Russia reached a conclusion that the US wanted to prolong the conflict in Afghanistan. This situation, officials pointed out, has left Pakistan with no other option but to seek a regional solution by involving countries such as Russia, China and Iran.

Iran hints at joining Pakistan-Russia-China alliance

Moscow already hosted two meetings involving Pakistani and Chinese officials to discuss the Afghanistan problem. Another such gathering with larger audience is also scheduled later this month. The objective of these meetings is to evolve a regional consensus for the lingering conflict in Afghanistan.

The biggest fear among the regional countries including China and Russia is the emergence of ISIS in Afghanistan. There were reports that thousands of fighters were being sent to Afghanistan from Syria, a development, Pakistan, Russia and China believe is aimed at further destabilising the war-torn country. These countries suspect that the US may be using ISIS as proxy to further its interests particularly to counter China and a resurgent Russia.

For Pakistan, this is dangerous scenario as prolonged instability in Afghanistan will continue to cast shadow on its progress and stability. "Due to these compulsions Pakistan has now reached out to Russia and other regional countries," commented defence analyst Lt Gen (retd) Amjad Shoaib.

Gen Shoaib, who is still closely connected with the military establishment, endorsed the assessment that the US was not ready to bring stability to Afghanistan. He also claimed that Pakistan already conveyed the Trump Administration that Russia and China were coming in a big way in Afghanistan if the US does not take steps to clear the mess.

Both Russia and China have endorsed Pakistan's stance on Afghanistan seeking an all inclusive reconciliation process. In a trilateral meeting held in Moscow in December, Russia and China agreed to a flexible approach to remove certain Taliban figures from United Nations sanctions lists as part of efforts to foster a peaceful dialogue between Kabul and the Taliban movement. This was one of the major demands of Afghan Taliban in previous round of discussions brokered by Pakistan between the insurgent groups and Kabul.

However, the US was not ready to accept it, something officials here pointed out showed Washington's lack of interest in seeking a peace deal. In fact, Taliban chief Mullah Akhtar Mansoor, before being killed in a drone strike, was pushing for this demand to be accepted in order to show skeptics within the insurgent group the benefits of seeking peace process.

Russia, China favour taking Taliban off UN sanctions list

But contrary to the tough US stance, China and Russia are willing to show flexibility in a bid to give way for genuine peace efforts.

The unending Afghan problem has brought Pakistan and Russia so close that the two are now taking their ties to new heights in terms of strategic and defence cooperation. Only last week, Pakistan army took a high-powered Russian military delegation to the North Waziristan Agency (NWA) to give them the firsthand account of the country's anti-terror gains. The development is part of a series of steps the two countries have undertaken in recent years to open a new chapter in their relationship that have long been held hostage to the politics of cold war era.

The rapprochement first began in 2011 when Islamabad had decided to broaden its foreign policy options after its relations with the US deteriorated first due to a secret raid at Abottabad to kill Osama bin Laden in May 2011 and then killing of 24 Pakistani soldiers in Nato airstrikes at Salala Check post along the Afghan border.

The joint session of parliament after debating the negative fallout of the US and Nato actions approved the new foreign policy guidelines that envisaged reaching out to Russia. Unlike on other issues, there is complete consensus among the political parties as well as civil and military authorities that Pakistan must improve its ties with Russia.

"This is a realistic approach and is good for our interests," said Gen Shoaib, who added that increased cooperation with Russia did not necessarily mean that ties between Pakistan and the US lost their utility.
COMMENTS (24)
Comments are moderated and generally will be posted if they are on-topic and not abusive.
For more information, please see our Comments FAQ