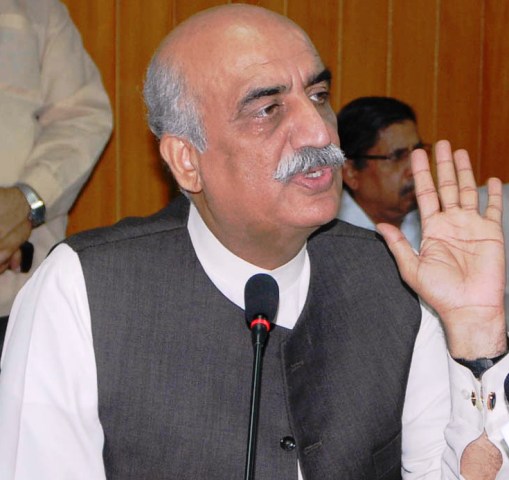 ---
SUKKUR: Suspecting a conspiracy behind the acute water shortage at Sindh's barrages, Leader of the Opposition in the National Assembly Syed Khursheed Ahmed Shah has claimed that Sindh has more rights to Indus water than other provinces. Addressing a seminar organised by the Chamber of Agriculture in Sukkur on Sunday, he said the federation consists of our units and therefore should be very careful while making any decisions.

Judicial commission allows a week's time for report on implementation on clean water supply

According to him, the state should be run under the Constitution and not use of force, but unfortunately, despite repeated requests, the federal government is paying no attention towards this. "In the past, we have seen Pakistan split into two and now we cannot afford such a thing," he added. Referring to the negative attitude of the prime minister, Khursheed said he seldom visits Parliament and therefore leaders must write letters to him for problems to be addressed.

Khursheed claimed that the condition in southern Punjab is worse than that in Sindh and the people there are irked by the long-time neglect but the government seems indifferent. "Balochistan is suffering from a water shortage and so is Sindh but instead of fulfilling their demands, the federal government is busy filling dams," he claimed, demanding the centre provide water to Sindh so that the provincial government can also give water to Balochistan to mitigate the people's suffering.

WhatsApp 'Red Alert' message cautioning Karachiites of fake heat-wave creates panic

Speaking on the occasion, MNA Nafisa Shah said the people of Sindh have been subjected to the worst atrocities for the last four years and 18 hours of load-shedding is being done in both urban and rural areas of the province. "The growers are being advanced loans with 14 to 15% interest while the industrialists are getting loans with 6% interest, which is an atrocity," she said. Nafisa demanded the federal government stop its discriminatory attitude towards Sindh, adding that two federal ministers, Khawaja Asif and Abid Sher Ali, are acting like the police officers. She also demanded immediate release of 20,000 cusecs water for Sindh.