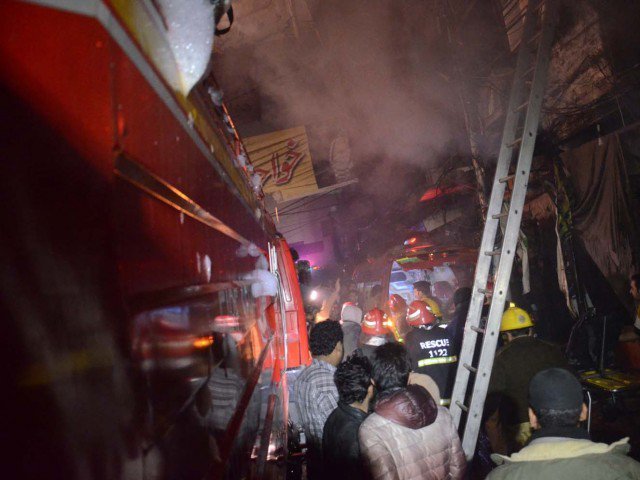 ---
LAHORE: A fire broke out at a plaza in Lahore's famed Anarkali Bazaar in the wee hours of Saturday morning, destroying multiple shops.

According to Express News, the fire erupted at 2am and spread to nearby shops and buildings before turning into a huge blaze.

At least 26 suffer injuries as fire breaks out at Lahore sale market

Large amounts of inflammable goods, including clothing and decorative material was stored in many of the shops in the bazaar.

Fire brigades and at least 21 vehicles of Rescue 1122 commenced a rescue operation that lasted for at least seven hours, after which firefighters were able to contain most of the blaze.

However, a rescue spokesperson said the operation is still underway.

11 killed, 75 injured as fire erupts at Karachi's Regent Plaza Hotel

In December 2016, at least 26 people were injured when a fire broke out in a sale point of plastic items at Wahdat Road in Mustafa Town area of the walled city.

Some 10-12 gas cylinders were placed with the boundary wall of the sale point which burst with a bang and had fuelled the fire, as per the rescue officials.