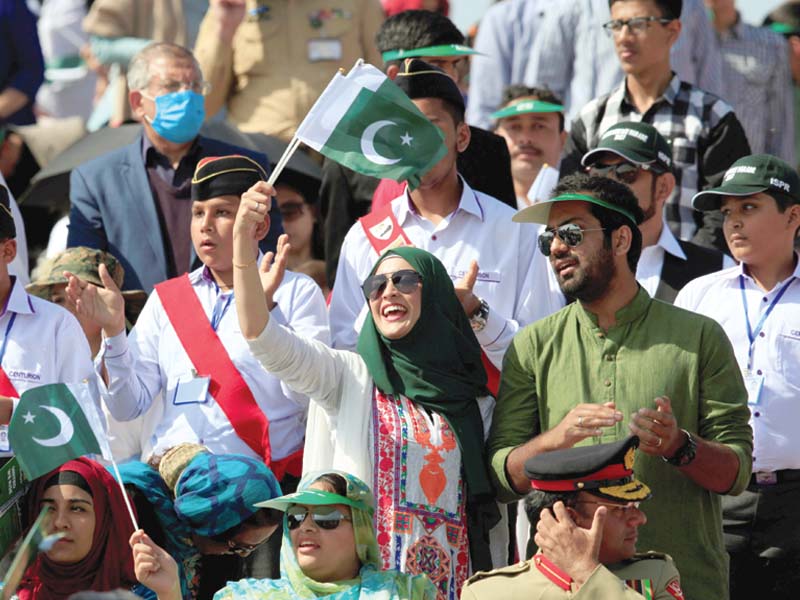 ---
RAWALPINDI/ ISLAMABAD: While the capital reverberated with a massive parade which showcased troops and bands from Saudi Arabia, Turkey, China and South Africa, the 77th Pakistan Day was marked through flag-hoisting ceremonies, declamation contests, tabelaux and music.

In Islamabad, while a number of roads were blocked and there was a partial shutdown of cellular services near the parade venue, it was largely peaceful. The day, though, ended with sounds of traditional music from the four provinces and Gilgit-Baltistan (G-B) and Azad Jammu and Kashmir (AJK) at the Pakistan National Council of Arts.

77th Pakistan Day:Spectacular display of military might

In Rawalpindi, law enforcers remembered their fallen comrades. The district police department held an event at the Police Lines in this regard where senior police officials including Regional Police Officer Wisal Fakhar Sultan Raja and City Police Officer Israr Ahmed Abbasi paid rich tribute to fallen police officials.

Hazara

Similarly, in the Hazara division, Pakistan Day celebrations were held throughout the region.

Three of the day's major events were held at the Jalal Baba Auditorium, Abbottabad Press Club, and Baldia Park Abbottabad. A flag hoisting ceremony took place in Baldia Park. Adviser to Khyber-Pakhtunkhwa Chief Minister Mushtaq Ghani said the day should serve as a reminder to fulfil the purpose for which Pakistan was created.




He added that rulers had forgotten the teachings of Quaid-i- Azam and were indulging in corruption, nepotism, money laundering, and other social evils which had harmed the very foundations of Pakistan.

Gilgit-Baltistan

Joy for residents of Gilgit-Baltistan on Pakistan Day was doubled after two residents of the region were honoured with civilian awards for their contributions to the country.

In a ceremony at Governor House, Governor Mir Ghazanfar Ali presented the President's Pride of Performance Award to the son of martyred police inspector Attaullah. The other award went to writer Muhammad Hasan Hasrat. In another ceremony in Gilgit, students debated the significance of March 23 in the declamation contest.

19 pictures that will make you a proud Pakistani

Azad Jammu and Kashmir

In AJK, hundreds of people- young and old  - turned up at the Muzaffarabad Airport to witness an acrobatic air show by paragliders.

"We rafted n Jhelum River and paraglided from Sarran some 8,000 feet above sea level," said Tourism and Information Secretary Mansoor Qadir Dar. Meanwhile, the Special Communication Organisation (SCO) organised a jeep rally which started from Bank Square in Chatter. They circled around Muzaffarabad from Talli Mandi to Tariqabad, before ending at the Muzaffarabad airport.

With addtional input from Abbottabad, Muzaffarabad and Gilgit

Published in The Express Tribune, March 24th, 2017.
COMMENTS
Comments are moderated and generally will be posted if they are on-topic and not abusive.
For more information, please see our Comments FAQ