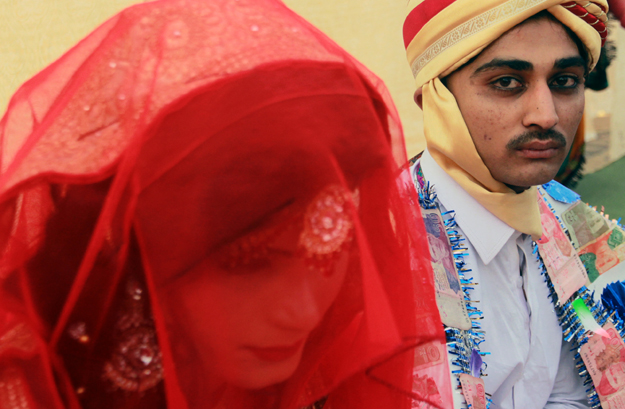 ---
KARACHI: As President Mamnoon Hussain ratified the Hindu Marriage Bill, 2017 into a law, 62 Hindu couples tied the knot at Karachi's YMCA Ground in a ceremony on Sunday night.

The mass wedding ceremony was organised by the Pakistan Hindu Council (PHC) and was akin to a carnival, with colourful dresses, jewellery, dance and music.

The huge hall was set up for the extended families of the couples, whereas the bride, groom and four close family members were seated inside small enclosures.

The organisers had assigned these enclosures as per the names and registration numbers of the couples. The small enclosures spread out around the hall had all the necessary items needed for a Hindu marriage - each table had a coconut, a round plate bearing wood, ghee and soil to use for the circuits taken during the ceremony, dry fruit such as peanuts, rice and red vermillion powder.

Not every enclosure had a separate pundit, explained Pundit Kishan Lal. He told The Express Tribune that they performed one ceremony on stage while the other couples imitated the ceremony with the help of PHC volunteers and a live video feed on LCD screens setup in every enclosure.




He added that the rituals, which includes the havan (sacred fire) and circuits, takes one-and-a-half hours, whereas after that every family can complete the ceremony according to their personal beliefs

Wearing a colourful band and waiting desperately for the ceremony to begin, Deepak, one of the grooms sat in mandap (enclosure) number 53 along with his bride Madhu, who was wearing a pink dress with a colourful band on her head. He said he works as a farmer in Sanghar. According to Deepak, he never dreamed of having his wedding in Karachi at such a huge gathering. He shared that back home in his village everyone earns very little and therefore cannot afford lavish weddings.

The father of Anmol, a bride also dressed in pink, said that they usually take loans for weddings of their children but the trend of a mass wedding has eased the burden on them and most of the fathers present at the event were quite relieved.

PHC's Patron-in-Chief Ramesh Kumar Vankwani said he was delighted to hear of the ratification of the Hindu Marriage Bill, 2017. People often ask about the mass wedding now, as it is a great opportunity for them to save money, he said. We have arranged 100 weddings per year in the last 10 years and this has increased people's expectations, Vankwani added. He added that not only in Karachi but they also organise these weddings in rural Sindh and Balochistan, as many people are hesitant to visit Karachi and prefer having weddings in their hometowns.

Vankwani said that a few months before the mass marriage ceremony they announce the date in the mandirs and hang banners across the towns and cities so that deserving people can register for their wedding. He said the couples belong to Umerkot, Mirpurkhas, Sangar and other areas of Sindh.
COMMENTS
Comments are moderated and generally will be posted if they are on-topic and not abusive.
For more information, please see our Comments FAQ