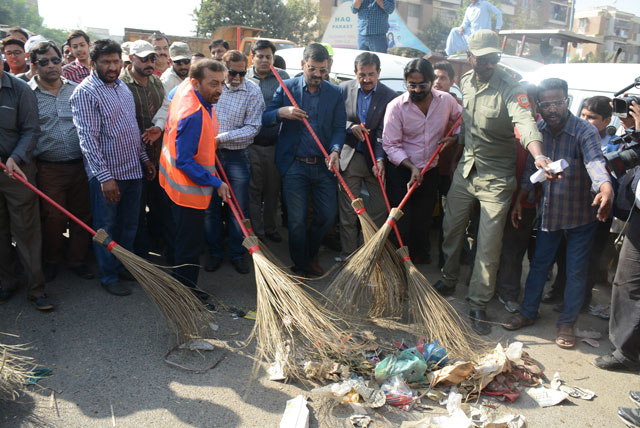 ---
KARACHI: If we are behind any encroachment in the city, why was the ruling government of Pakistan Peoples Party (PPP) silent over the issue and did not make cases against us?

Faisal Subzwari, a member of Muttahida Qaami Movement (MQM)-Pakistan's Rabita Committee, raised this question while addressing the media on Sunday at his party's makeshift headquarters in PIB Colony. Subzwari was speaking in response to the press conference of Pakistan Peoples Party's (PPP) Saeed Ghani who had blamed on Sunday the MQM for the mess in the city.

"At least MQM had not sold out jobs in the province, which PPP has been doing since they have started ruling the province," said Subzwari. "The biased attitude of the Sindh government towards urban areas of Sindh is quite evident now and a huge budget earned from Karachi is being allocated for rural areas of Sindh. However, no development is seen there."

MQM accuses PPP of firing only 'Urdu-speaking' employees

Subzwari pointed out that the people of Karachi are left with no water and only 5% of the total water in Sindh is given to Karachi. "PPP was never interested in initiating water projects for the city including K-IV," he said.

Meanwhile, Subzwari also said that Mayor Wasim Akhtar is keen to work for the city but he is left with no power. "The constitution of the country ensures rights for the local government, but PPP has deliberately not given these powers to local government representatives," he said. "Akhtar tried to do his best for the city, without any powers, in his 100-day cleanliness campaign and tons of garbage were lifted during these days."