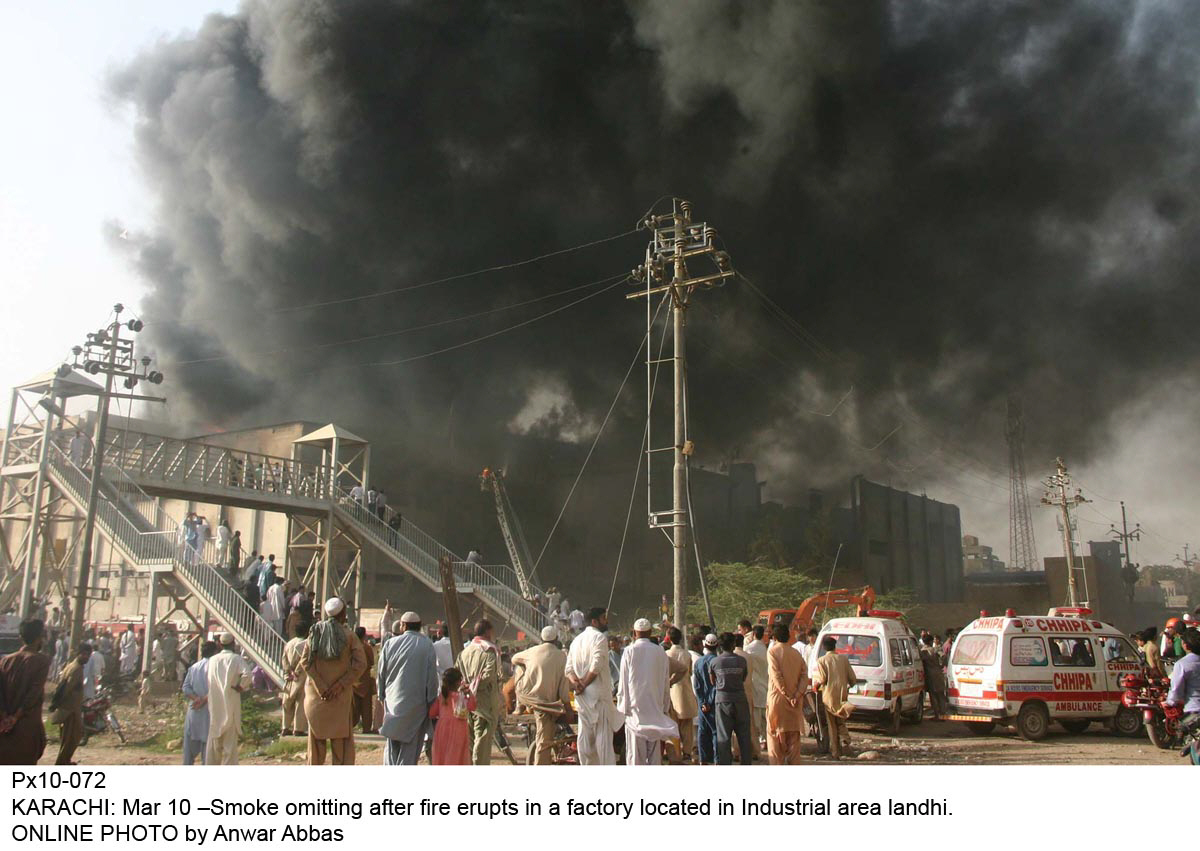 ---
KARACHI: A fire erupted at a multi-storey denim factory in Landhi's industrial area on Friday afternoon but no loss of life was reported.

Despite the intensity of the blaze, no loss of life was reported at the factory, where hundreds of workers are employed in two shifts, because the fire broke out during Friday prayers. The factory is built over two acres.

Initially fire brigade officials dispatched two fire tenders to the site but later 10 more fire tenders with two water bowsers and a snorkel were also sent after the department's officials declared it a 'third-degree fire'.

"Thank God the majority of the workers were not inside the factory when the fire broke out, as it erupted during Friday prayers and the workers had gone to offer prayers at the nearest mosque," said Imran Ali, a factory worker. "There would have been a massive loss of life if the fire broke out before or after Friday prayers." Only a few workers were present at the factory when the fire broke out and all of them were able to escape safely.

Letter to authorities: Traffic police for installation of fire extinguishers in vans  

Before the fire fighters were able to douse the fire, the flames reached the third floor of the factory and surrounded the entire building. The fire brigade spokesperson said that there were around a dozen fire tenders battling the blaze but they were short on water, resulting in private water tankers being summoned to help extinguish the fire.

Refuting claims made by the workers about the fire brigade reaching the site very late, officials said that the department received information about the fire at around 2:35pm. "As soon as we got information two fire tenders were immediately dispatched to the site," said Landhi fire station incharge Fakharuddin. "It was taking time to douse the fire completely because of multiple reasons like strong winds, the congested area, unavailability of water and the presence of garments," he explained. He said that the fire erupted at the ground floor of the factory and reached the third floor before being extinguished.

Paying tribute: Ghakkar Plaza fire martyrs remembered  

Karachi Metropolitan Corporation's senior director of municipal services Masood Alam said that the fire erupted on the ground floor and then spread to the upper floors, he said. "There weren't any fire safety passages or equipment inside the building," he said, adding that there were chemical drums inside the factory, which exploded in the blaze.

The building can collapse at any time, he said, pointing out that the Sindh Building Control Authority should remain on standby and must also check why there were no fire safety provisions inside the building. The fire fighters were still battling the blaze as of Friday evening. The cause behind the fire has yet to be ascertained.
COMMENTS
Comments are moderated and generally will be posted if they are on-topic and not abusive.
For more information, please see our Comments FAQ