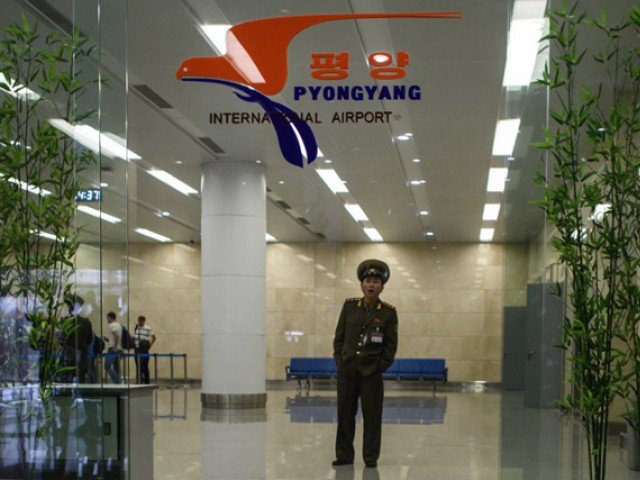 ---
KUALA LUMPUR: The UN's World Food Programme said two of its Malaysian staff left North Korea Thursday after Kuala Lumpur and Pyongyang banned each other's citizens from leaving their countries in a row over the murder of Kim Jong-Nam.

"The staff members are international civil servants and not representatives of their national government. They work on WFP's programmes in DPR Korea," the UN agency said in a statement, adding that they had arrived in Beijing.

North Korea and Malaysia Tuesday banned each other's citizens from leaving their countries, with Kuala Lumpur saying its nationals were effectively being held "hostage".

Malaysia says ready for 'five-year' stake-out at North Korea embassy

The countries had unusually strong links for years, but ties have rapidly deteriorated since two women wiped a deadly chemical on Kim's face in Kuala Lumpur International Airport on February 13.

Malaysia's prime minister Najib Razak posted on Facebook in both Malay and English that he had been briefed about the release.

"Stella Lim and Nyanaprakash Muniandy have both safely arrived in Beijing," he said.

In a separate statement, Najib again ruled out severing ties with North Korea, with whom he said Kuala Lumpur must negotiate to secure its citizens' release, but reaffirmed that Malaysia would not allow North Koreans to leave the country.

"We will not relent from our firm approach," he said.

"I pledge that the government will do everything possible to ensure that our citizens continue to be safe and will be able to return to Malaysia," he added.

A senior government official told AFP that Malaysia was not responsible for securing the release of the two UN staff.

"They carry UN laissez-passer documents," he said.

Malaysia PM not waiting for apology as North Korea envoy expelled

In another Facebook post Najib said that he had just spoken to Malaysia's counsellor in Pyongyang.

"I would like to update that he, his family along with all of the other Malaysians in North Korea are safe," he said.

The Malaysian foreign ministry said 11 of its citizens were currently in North Korea - three embassy staff, six family members and two who work for the UN's World Food Programme.

The government has urged all mosques to hold special prayer sessions from Friday "until this political turmoil is over".

Seoul has blamed Pyongyang for Kim's assassination, and Kuala Lumpur wants to question several North Koreans over the murder.

An autopsy revealed that VX nerve agent, a substance so dangerous it is classed as a weapon of mass destruction by the UN, was used to kill Kim.

Two women - one Vietnamese and one Indonesian - have been charged with the murder. Airport CCTV footage shows them approaching the heavyset 45-year-old and apparently smearing his face with a cloth.

Police say he suffered a seizure and died less than 20 minutes later.

Police are seeking seven North Korean suspects in their probe, four of whom left Malaysia on the day of the murder.

The police chief says he believes the other three are hiding in North Korea's embassy.

On Friday they released the only North Korean they had arrested for lack of evidence.

The diplomatic dispute erupted last month when police rejected North Korean diplomats' demands to hand over Kim's body.

North Korea bans Malaysians from leaving in Kim spat

The North has never confirmed the identity of the dead man, but has denounced the Malaysian investigation as an attempt to smear it, saying he most likely died of a heart attack.

Kuala Lumpur announced the expulsion of the North's ambassador over the weekend and Pyongyang retaliated in kind.

Malaysia has also cancelled a rare visa-free travel deal with North Korea, with Malaysian football authorities banning the national team from playing an Asian Cup qualifying match in Pyongyang.
COMMENTS
Comments are moderated and generally will be posted if they are on-topic and not abusive.
For more information, please see our Comments FAQ