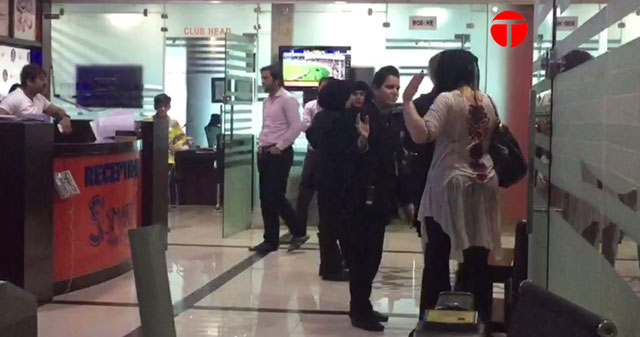 ---
ISLAMABAD: A woman claiming to be a diplomat allegedly assaulted security staff at a health club in Islamabad on Saturday after they attempted to stop her from filming female swimmers.

"It was the hour designated for women and girls when she started filming women at the swimming pool using her mobile phone," the manager of Smarts in Safa Gold Mall told The Express Tribune.

"When a member of the staff tried to stop the woman, she pushed him away and created a scene," he said, adding that she later slapped a female mall security official.

The woman, the manager continued, did not have a club membership and had entered the swimming area fully dressed.

Two girls take down harasser on Karachi's Tariq Road

The manager said that amid the argument, they called the police, who arrived within a few minutes.

"We handed over the woman and her phone to the police. They took her away, but later released her," he claimed. The manager further said that the woman claimed to be a US diplomat of Pakistani origin.

When contacted, the Kohsar police said they had received a complaint and went to the scene, but "the issue had been resolved."

"Both the parties reached a compromise and settled the issue, so we did not intervene," an official said.



The club and the police both said they did not know the identity of the woman. Interestingly, the mall administration, when approached, tried to play down the incident, saying the issue "had been resolved amicably."

Meanwhile, a club member who saw the incident questioned how the woman got inside the facility in the first place as it has a biometric entry system and she was not a member. The club member said it was likely a lapse on the part of mall security as the only other way she could have gotten in was through the staff entrance.

Salon owner, staff allegedly assaulted by NAB official's wife in Karachi

In a similar incident on February 16, two sisters beat up a man after he groped one of them on Karachi's Tariq Road when they were returning from a shopping trip.

Later, a crowd of more than 30 people surrounded the molester – with one of the girls in the middle seen holding him by the collar, smacking his face and punching in the stomach.
COMMENTS (17)
Comments are moderated and generally will be posted if they are on-topic and not abusive.
For more information, please see our Comments FAQ