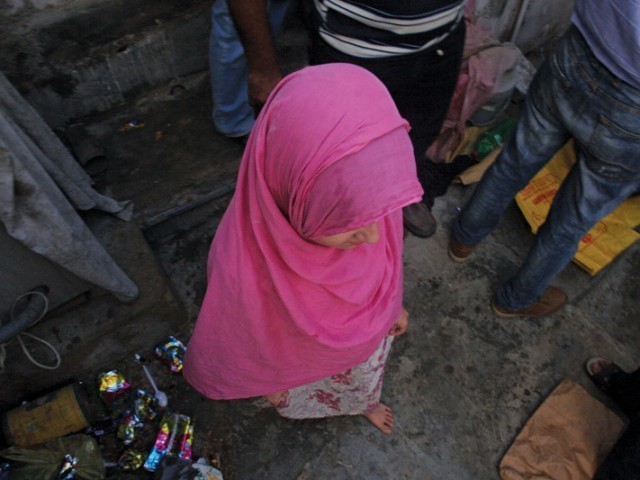 ---
MULTAN: A man, who has been on the run after raping and murdering a six-year-old girl a few days back, was arrested by police on Tuesday from Multan.

A police official told The Express Tribune, "The body of six-year-old Shazia was recovered from a vacant house in Rajanshah." He added, "Torture marks were also visible on different parts of the body." He said the girl was brutally tortured before being raped and killed.

Woman allegedly raped by relative for refusing proposal

The official maintained the police investigated the matter from all angles and after analyzing the evidence gathered from the crime scene, it transpired that 50-year-old Allah Ditta, a resident of Multan, was involved in the incident.

He said on a tip-off, a police team raided a hideout and nabbed the accused.

Meanwhile, the police said during interrogation, accused Allah Ditta confessed of committing the crime. He told the police that he sexually assaulted the girl and then killed her to evade arrest.

However, the police said DNA test of the accused have been taken and further proceedings in the case will be carried out after test result.

On the other hand, parents and relatives of the victim demanded the authorities to provide them justice and award exemplary punishment to the accused.

Woman held for killing husband

In another incident, a woman accused of killing her husband was arrested by police from Farooqpura area.

The police said the body of Mustansar was recovered from a house. The body bore marks that suggested the deceased was thrashed before being murdered.

Minor girl's rape: Police suspect neighbour, relative

However, the victim's wife Fatima, told the police that Mustansar committed suicide by hitting himself with bricks. They said the victim was depressed and took the action in sheer frustration.

After recording the statements, the police suspected foul play and detained Fatima for interrogation. During the course of investigation, the accused confessed of killing her husband. She told the police, "My husband forced me to indulge in immoral activities."

She added, "On the day of the incident, Mustansar asked me to do the same and when I refused, he started hitting me with bricks."

Fatima maintained she wanted to inform her parents about the situation but her husband continued to force her to commit immoral acts. Therefore, she said, "I hit Mustansar on the head with a brick and he died on the spot."

Meanwhile, Fatima's parents declared their daughter was innocent.

Published in The Express Tribune, March 1st, 2017.          
COMMENTS
Comments are moderated and generally will be posted if they are on-topic and not abusive.
For more information, please see our Comments FAQ