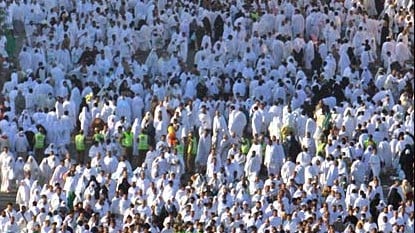 ---
ISLAMABAD: The Supreme Court on Monday ordered officials to undertake a vigororous campaign to familiarise the public with authorised Hajj and Umrah tour operators and act against all those who were fleecing would-be pilgrims.

The court also criticised the poor state of affairs at the ministry of religious affairs.

A three-judge bench of the apex court, headed by Justice Dost Muhammad Khan and comprising Justice Musheer Alam and Justice Maqbool Baqar, issued an eight-page ruling rejecting the bail application of an accused involved in running fake travel agencies.

The court lamented that before the Hajj season started every year, innocent people, mostly from rural areas, were looted by such 'agencies', including unauthorised tour operators.

Stressing the need for judicial action to curb fraud in matters pertaining to religion, the apex court urged lower courts to treat such cases in a different manner, effectively preventing such fraud.

More than 0.25m Hajj applications received so far: PITB

Citing the infamous 'Double Shah' case, it observed that similar serious fraud was being perpetrated by a well-organised mafia for the past several years.

The bench also ordered all watchdogs to take on a proactive role, preventing such corruption and fraud. The judgement also noted that the ministry of religious affairs and inter-faith harmony was also not performing its statutory obligations.

Stressing the need for creating public awareness in this regard, the apex court urged the ministry to use electronic and print media, at district, tehsil and union council levels effectively "indicating the approved and authorised Hajj and tour operators, listed on the approved list of the ministry with a fixed quota", besides indicating the amount of money/fee "they can collect from each individual", for sending each individual for performing 'Hajj' or 'Umrah' and what facilities "they are required to provide at the holy places, including travel and transport for a particular category.

The court also ordered duly authorised/ approved Hajj and Umrah tour operators to display the authority letter/ license numbers, date of issue, its allocated quota and the amount they were authorised to charge or permitted by the ministry.

"They shall be further made liable to execute a guaranty/ indemnity bond that they will publish a booklet/ handbill, to be handed over to each applicant, desirous to perform Hajj and Umrah, containing all details of expenses, chargeable and all facilities to be provided during transit from Pakistan to KSA and within KSA while performing Hajj or Umrah, including transport, lodging, boarding, food and other facilities".

Services of NADRA and PTA should be availed for providing multiple Universal Access Number(s) (UANs), cell phone and landline facilities and public should be informed how to get verified and authentic information from the ministry of Hajj about all private 'Hajj' and 'Umrah' operators.

Supreme Court rejects government's Hajj Policy for 2016

The court urged the authority concerned to comply with its orders "within two months and this campaign should be vigorously carried out at least three months before (the start of) Hajj season".

"Any fault or default/negligence on the part of the ministry of religious affairs and inter-faith, federal government and those, to whom such information is conveyed by it, shall be deemed to have violated the law and the Constitution and besides departmental action to be initiated, they would be liable to be prosecuted under the law, whenever such case is reported to the Court," stated the verdict.

The court also directed the ministry and the federal government to update their respective websites in English, Urdu and all local languages, "conveniently readable and understandable by illiterate poor people", showing all details about duly approved Hajj and Umrah tour operators, warning the public at large that except those mentioned on the website, no other agency or tour and Hajj operator was authorised to make booking or collect money for sending people to perform Hajj or Umrah.

Published in The Express Tribune, February 28th, 2017.
COMMENTS
Comments are moderated and generally will be posted if they are on-topic and not abusive.
For more information, please see our Comments FAQ