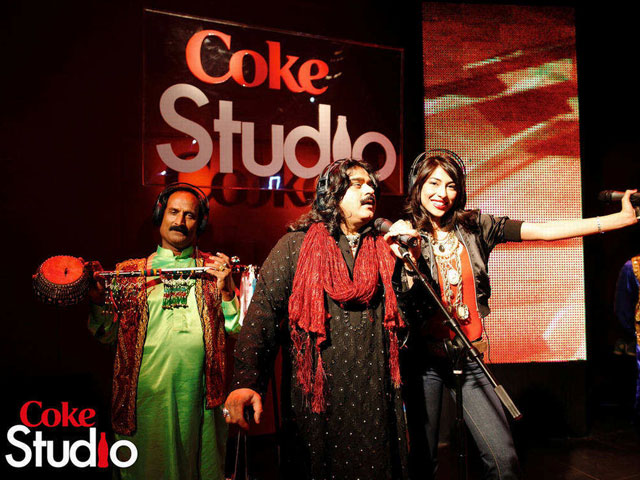 ---
Over the past few years, Coke Studio has become an idea of its own. It represents all that has been missing in the mainstream Pakistani narrative - the colours, the vibrancy and a gamut of ideas that we need Pakistan to be represented by, especially in such difficult times.

It's in fact a ray of hope, particularly for Pakistanis living abroad, who seek refuge in every Bulleh Shah verse being rendered on the show. But the million dollar question remains as to what purpose Coke Studio serves in terms of the music industry at large and more importantly how has the show evolved as it approaches its tenth anniversary this year.

Anyone who wants to be a hit artist can make a viral video these days but if one wants credibility attached to his or her name, then Coke Studio is 'the' platform. It's almost as if your music industry is being run on fizzy drinks.

Revealed: Here's the artist line-up for 'Coke Studio 9'

Despite all the hype and grandeur attached with the show, it is slowly running out of steam and original ideas. You can't tell one Coke Studio song from another as it plays on radio and the Sufi obsession is bringing even more monotony to the episodes. The show has too many things to reinvent as it approaches a decade-old status.

Old guard vs new guard




The biggest challenge for the show is to bridge the gap between the indie scene and the mainstream musicians. The Dynomans and the SomeWhatSuper's need to be pulled out of their basements and offered a bigger platform so that we as an industry can embrace the era of new-age music without any qualms or reservations.

Bringing a new set of musicians, technicians or merely people with an innovative approach to sound mixing can quadruple the impact Coke Studio already has as a music show. That is the only way for the show to permeate and fuse within a whole different set of listeners globally; else, doing more of the same only brings more of the same to the table.

More creative freedom

The format is the same this year. We have multiple music producers working under Strings to produce music with a set house band and also with some featuring musicians. According to sources, the likes of Sahir Ali Bagga are on board and so is Ali Hamza as a solo producer along with almost the same line-up as the previous season. This calls for an important point raised by several producers and featuring musicians as to what is the role division between Strings and the featuring producers.

Top 15 Coke Studio songs of all time

Let's say, if Noori are the music directors and Strings are the producers then don't their work and vision overlap? And if they do then who makes the final call? Whoever does, one thing is for sure that if the featuring producer is not given the creative freedom he requires then there's no point of having too many cooks, since they'll only spoil the broth.

With Coke Studio already being an established brand, it's about time they indulge in a few experiments just for the heck of innovation, and not just producing hits.

Individual seasons

It's quite clear that the success of the multiple-producer approach taken by Coke Studio @ MTV (Coke Studio India) inspired us to take a similar route. Our approach is slightly different though - instead of giving a complete episode to every producer, Coke Studio compiles one song of each producer into every episode. This way the episode gets more diverse but none of the producer's work is adequately noticed and the audiences end up hating on or judging one particular producer without listening to the rest of his music.

Indian producers like Clinton Cyrejo and Amit Trivedi shot to fame right after their stint at Coke Studio because their complete package was strong in multiple ways and the show proved to be an immediate release medium for their short albums. Not many people would have disliked Fakhir had the likes of Jhaliya been released alongside Afreen Afreen.

Original music




Original music, original music and original music - the lack of it has become a chronic problem with Coke Studio. With almost every passing season the title cover studio is becoming more relevant to the show than anything else.

With strings attached: Multiple producers to helm Coke Studio 9

It is certainly encouraging to see fresh faces dish out one great cover after another at Nescafe Basement; it is equally depressing to see veteran musicians with a plethora of original music under their belt stressing so much on cover songs. With Strings themselves being so good at writing catchy songs it's about time we get to listen to original music - that too in abundance, even if it features new and upcoming artists.

Junaid Jamshed

The shocking demise of Junaid Jamshed has aggrieved everyone who grew up listening to Vital Signs and the maestro's solo music. His bittersweet voice represents a glorious and eminent yet a rebellious phase of Pakistani music and pop culture and it would be unfair if we don't embrace that wholeheartedly.

The burning question is whether Coke Studio will feature a Junaid Jamshed tribute in their upcoming season or not. Keeping his contradictions in mind, it will be a very tricky decision to make but for the sake of his voice and star power, some sort of acknowledgment needs to be made even if it is only in the pre-release launch anthem.

However, JJ's religious inclination may not be the only hurdle in the celebration of his legacy; an equally important factor would be JJ being an extension of Rohail Hyatt's influence on pop music and him not being a part of Coke Studio anymore. If Strings along with other decisionmakers of Coke Studio can dive into, and resolve these issues, then we're definitely in for a fun-filled season 10.

Have something to add in the story? Share it in the comments below.