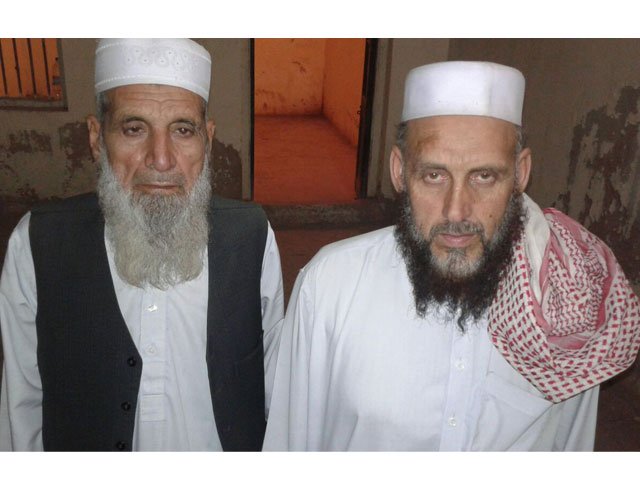 ---
SUKKUR: Sukkur police arrested on Saturday two men collecting charity for a banned outfit in the name of a madrassa based in Khyber-Pakhtunkhwa (K-P), said Sukkur SSP Amjad Ahmed Shaikh.

According to the SSP, the special branch of Sukkur arrested the two suspects, identified as Habibullah Pathan, resident of Mosuna Nagar, Abbotabad, and Amanullah Pathan, resident of Takht Nasari, Kurk, K-P near Mir Masoom Shah Minaret.

The two were collecting donations from the public and mosques in the name of Madrassa Shamsul Uloom Taleemul Quran, said police officials.

Receipts of donations and cash were also recovered from the suspects' possession. According to SSP Shaikh, they had printed receipts in the name of the madrassa but were collecting charity for a banned outfit.




Army mounts new nationwide offensive

A case was registered against them at A section police station, Sukkur, under the Anti-Terrorism Act, and sections of the Pakistan Penal Code. They will be produced in the court on Monday for sought of remand.

Explaining how the suspects were caught, an official of the special branch said the SP of Sukkur's special branch, Mansoor Mughal, had received information that two suspects are living in a musafirkhana [inn] situated on Barrage Road. On this, the SP tasked his men to keep vigil on these people and report to him. Resultantly, the two suspects were arrested while collecting donations for the banned outfit.

Special branch officials said the suspects were living in Room No 1 of Zamindar Inn on Barrage Road, for the last few days.

Meanwhile, investigations are underway with the suspects as well the owner of the inn as to whether he had informed the police about the guests after they checked in or not.

According to the National Action Plan, which was formulated after the 2014 Peshawar attack, all owners of hotels, guesthouses and musafirkhanas have been instructed by police to provide information about all the guests, within five hours of the check-in time.

People have also been directed to get clearance of their respective areas before giving their houses or flats on rent.

Meanwhile, at least 23 Afghan officials were held from different areas of the city.

Pakistan Army launched Operation 'Radd-ul-Fasad' after a string of terrorist attacks left over 100 people dead across the country.