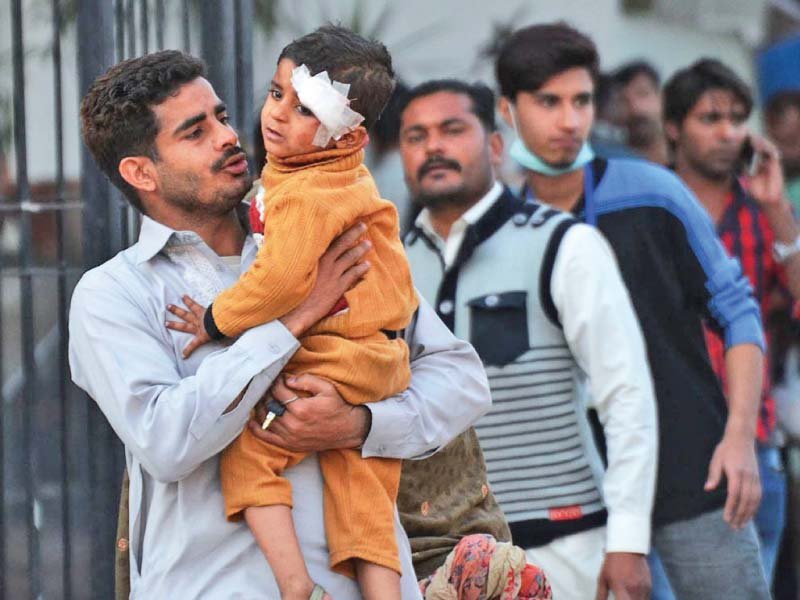 ---
LAHORE: The blast at Z-Block in Defence may have rocked Lahore to the core, but the resolve of citizens to fight the menaces of terrorism and extremism is stronger than ever.

Just after the blast, a large number of people gathered outside the Lahore General Hospital where the wails of ambulances bringing the injured from the targeted restaurant could still be heard.

A passerby told The Express Tribune that terrorists have intensified their attacks as it was the second bomb blast in the provincial capital within 10 days. "However, we will not bow down," the citizen asserted.

"They are trying to destroy our social fabric, but will not be successful," he said. "Our law enforcement agencies have intensified their operation to clean up these elements." Replying to a question, he urged the government to go ahead with the Pakistan Super League cricket final and provide security for guest players and the general public.

Although law enforcement agencies immediately cordoned off the hospital and even the media was not allowed to step in, the crowd gathered outside the medical facility was creating hurdles for authorities.

While many on the streets and social media were more adamant than ever to fend off militancy, a sense of panic prevailed over Lahore in general. Rumours spread that there were two more blasts in different areas of the city. The resulting chaos saw people driving aggressively to get home as soon as possible amid ambulance sirens in various parts of the city.

One of those injured from the blast told the media outside the LGH that the explosion occurred behind him and it was that glass wounded him. "I was in a meeting at my office located right by the building where the blast happened." The man said this was no normal situation and asked to be excused as he was unable to explain further.

Minister for Health Khwaja Salman Rafique and Lahore Lord Mayor Colonel Mubashir expressed similar views as the injured man, saying these were extraordinary times. "We are in a war-like situation," commented Colonel Mubashir.

Rafique told the media that all hospitals had declared an emergency and the doctors as well as paramedical staff were performing duties despite their own problems. "This proves the nation is united against terrorism."

A doctor at the hospital spoke to The Express Tribune over the phone and expressed his solidarity with the nation at this time of grief. He stated paramedical staff, professors and young doctors were all united to provide care to the injured.

Replying to a question about their strike which was called just a day before, the doctor said everything has been forgotten for now. "We are just trying to save precious lives. The terrorists hit us again."

"All medicines and other medical equipment are available. There is also no shortage of blood," he concluded.

Published in The Express Tribune, February 24th, 2017.