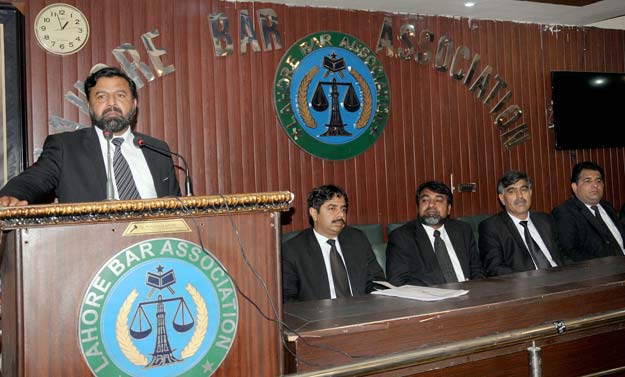 ---
LAHORE: Lahore Bar Association (LBA) representatives and senior police officials seem more interested in blaming each other rather than filling in security gaps at the district courts.

LBA representatives claimed security arrangements were nonexistent and could not deal with any untoward incident. The police, on the other hand, complained that security could not be made foolproof until the lawyers were ready to be frisked properly and their parking is removed from Aiwan-e-Adl.

LBA President Chaudhary Tanveer Akhtar said he was not satisfied over security measures. The lawyer added he had given some proposals to the police in the presence of district and sessions judge Abid Hussain Qureshi. The judge assured the suggestions would be implemented.

He said parking should be shifted from Aiwan-e-Adl to a proper alternative location and asked that the road between Aiwan-e-Adl to the senior civil judge's court be blocked. He further suggested concrete blocks be placed in front of the Aiwan-e-Adl main gates.

He also demanded snipers at civil courts, adding the deployed officials should be well trained and given latest equipment.

LBA Vice-President Irfan Sadiq Tarar said lawyers had protested against the poor security at district courts. He added the relevant superintendent of police assured well trained personnel with proper equipment.

He said that they received six walkthrough to be installed at the civil courts.

Security SP Abadat Nisar said he was satisfied over security arrangements at the district and sessions court. However, he acknowledged there was room for improvement, but it could not be carried out without the cooperation of lawyers. The police officer assured personnel would be given refresher courses every Sunday.

He added policemen started frisking lawyers some days ago at the civil courts, but members of the legal fraternity felt insulted.

On the other hand, representatives of the judiciary and police seemed optimistic and expressed their satisfaction over security measures. They added meetings were held and they would leave no room for an untoward incident to occur.

Additional district and sessions judge Tajamal Shehzad Chaudhry said he was is satisfied with the arrangements. He said relevant stakeholders had visited civil courts and discussed security matters from all aspects.

At the same time, Advocate Muhammad Qasim said security arrangements were disappointing as officials are not well trained. He added sometimes those who were deployed were not present at turrets constructed for security purposes on the boundary wall of the district and sessions court.

He said the more sensitive places included Model Town courts and the civil courts, especially Aiwan-e-Adl where security measures were not complete.

Published in The Express Tribune, February 22nd, 2017.