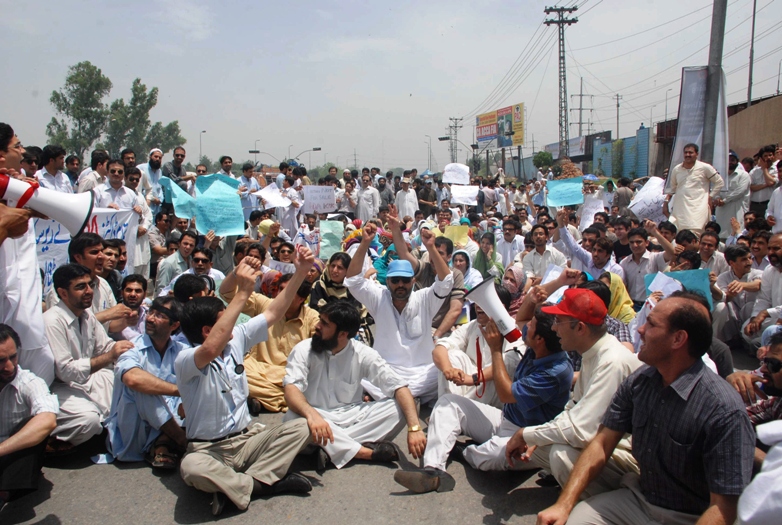 ---
RAWALPINDI: In line with a strike by young doctors across Punjab, doctors affiliated with the Young Doctors Association (YDA) boycotted outpatient departments (OPD) at the three allied hospitals in the garrison city on Tuesday.

They were protesting against officials of the Anti-Corruption Establishment (ACE) for allegedly torturing a doctor at the Services Hospital in Lahore on Monday night.

Doctors associated with the Young Doctors Association (YDA) did not tend to patients at the OPDs of Holy Family Hospital (HFH), Benazir Bhutto Hospital (BBH), and District Headquarters Hospital (DHQ) creating problems for the patients, especially those admitted to the gynaecology and paediatric wards.

Though OPDs at these hospital operated from 8 am to 2 pm, young doctors remained absent from their posts in these departments.

As a result of the strike, senior doctors had to tend to patients at the OPDs, mostly in the gynaecology and paediatric wards of the allied hospitals.

Hence, patients at other wards such as ENT, optic and orthopaedic suffered the most due to the absence of doctors.

"I came from Azad Kashmir for a check-up at BBH," said Muhammad Yamin, a retired military official from Rawlakot "I have kidney problem. I will come again on Wednesday since there were no doctors in the hospital [on Tuesday]."

The situation at the HFH and DHQ was similar with patients having to return home empty handed as doctors did not examine them at the OPD.

A YDA representative in HFH said that they were protesting against the alleged torture of Dr Atif Majeed, a senior vice president of YDA, at Services Hospital in Lahore by ACE staff who were not in uniform. He added that other doctors 'rescued' Dr Atif since the officials wanted to arrest him on charges of corruption.

He noted that the Punjab health department was not aware of any charges against Dr Atif and denied that the ACE contacted the hospital administration for arrest of Dr Atif.

Meanwhile, YDA Punjab Chairman Dr Haider Akhtar said that the young doctors were being victimised for raising voice against abject health facilities at government hospitals and pending health projects in Punjab.

He added that YDA members cannot be intimidated by the Punjab government through coercive measures and that they would continue their policy of raising voice for one bed for one patient in public hospitals.

Dr Haider noted that they would continue their strike on Wednesday.

YDA's general body, though, is expected to convene in Lahore later on Tuesday to formalise a line of action in the matter.

Published in The Express Tribune, February 22nd, 2017.