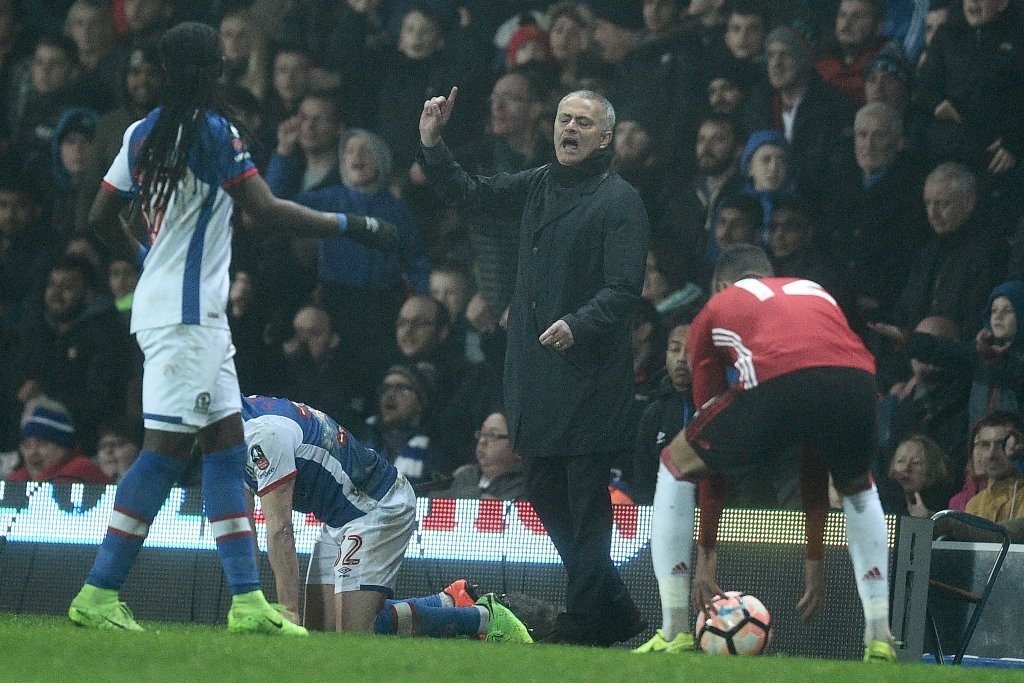 ---
PARIS: Jose Mourinho will likely ring the changes again as Manchester United look to wrap up their progress to the Europa League last 16 away to Saint-Etienne on Wednesday.

A Zlatan Ibrahimovic hat-trick led them to a 3-0 victory in last week's Old Trafford first leg and barring an alarming meltdown, the English giants should comfortably see out the second leg in France.

Mourinho made seven changes to his side for Sunday's FA Cup victory over Blackburn and will likely keep his squad rotating with the English League Cup final against Southampton to come this Sunday.

Just juggling his team enough to keep it fresh for every match is keeping Mourinho busy.


Rooney could miss League Cup final


United would play at least 65 matches this season if they reached the Europa League and FA Cup finals as well as the League Cup.

"I have to play Saint-Etienne, I have to play the (League Cup) final, I have to play, hopefully, another game in the Europa League, I have to fight for a top-four position in the Premier League. So I have so many things to think about," the Portuguese coach said after his side beat Blackburn 2-1.

St Etienne have not given up hope of causing a shock but their 2-1 defeat at Montpellier on Sunday has dragged them into a tight dog-fight in the battle to qualify for next year's Europa League, leaving them level on points with Marseille and Bordeaux, and four behind local rivals Lyon.

That will likely now prove their priority.

St Etienne coach Christophe Gautier had said following the Old Trafford match: "We must respect the competition and the people who come to the stadium."


Mourinho's fixture woes continue


But following the Montpellier defeat he had admitted that he has "some choices to make for the next matches".

St Etienne aren't the only side facing a daunting prospect in the second leg with Villarreal and Sparta Prague trailing respectively Roma, for whom Edin Dzeko bagged a hat-trick, and Rostov by four goals following last week's first legs.

Lyon and Schalke 04 also have one foot in the last 16 after three-goal victories over AZ Alkmaar and PAOK respectively.

But for Tottenham Hotspur, progress remains very much in the balance following last week's 1-0 defeat at Gent.

Tottenham's European form this season has been dire, winning just two of seven matches so far and suffering the ignominy of being knocked out of the Champions League group stages, and thus parachuting down into the Europa League.


Mourinho faces Chelsea in FA Cup


But a hat-trick from England striker Harry Kane gave Spurs a 3-0 FA Cup win at Fulham on Sunday, which Belgian defender Toby Alderweireld hopes can inspire his side at Wembley on Thursday.

"We're looking forward to (the second leg), to change the game we played last Thursday, get a good result and get to the next round," he said.

Things are tight also for Fiorentina, who defend a 1-0 lead at home to Borussia Monchengladbach, and Athletic Bilbao, heading to APOEL in Cyprus with a slender 3-2 lead.

Russians Krasnodar hold a 1-0 advantage ahead of their trip to Fenerbahce while Shakhtar Donetsk have a single goal lead ahead of the reception of Celta Vigo.
COMMENTS
Comments are moderated and generally will be posted if they are on-topic and not abusive.
For more information, please see our Comments FAQ