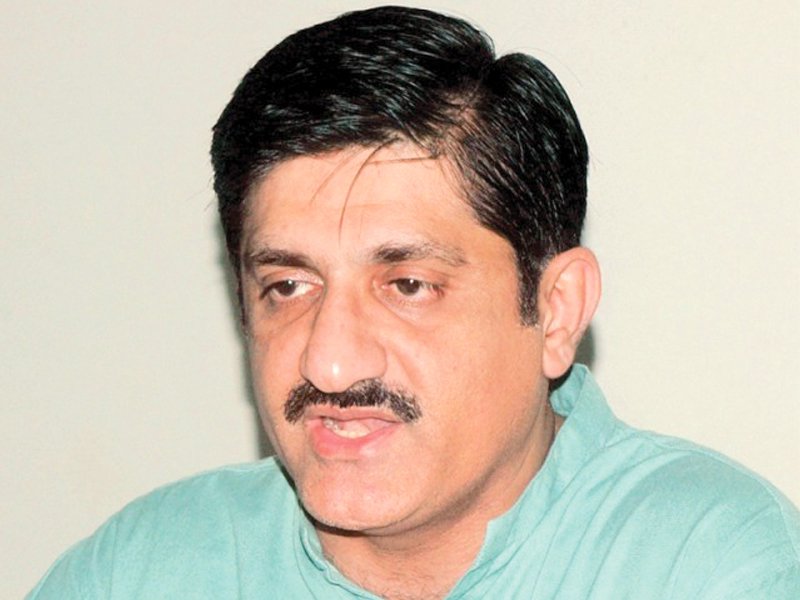 ---
KARACHI: The Sindh government decided on Monday to launch a grand operation against militants and organisations involved in terrorism and sectarian violence in the province.

The operation will be initiated simultaneously in Shikarpur, Khairpur, Jacobabad, Sukkur, Hyderabad and adjoining areas and along the Sindh-Balochistan border, it was decided in a meeting held at the Chief Minister's House. Participants of the meeting, which had been convened in the wake of the Sehwan shrine bombing, were also informed about progress in investigation.

Health Minister Dr Sikandar Mendhro, Chief Secretary Rizwan Memon, IG Sindh AD Khawaja, Additional IG CTD Sanaullah Abbasi, Additional IG Karachi Mushtaq Maher, Commissioner Karachi Aijaz Ali Khan, Commissioner Hyderabad Qazi Shahid Parvaiz and DIG Hyderabad Khadim Rind were among those who attended the meeting.

The meeting was informed that some madressas (seminaries) were training terrorists and criminals. "We have sent a list of 93 such seminaries to the federal interior ministry (recommending) putting them on the watch list," Chief Minister Murad Ali Shah said.

He added that an operation was already under way in some areas and its scope would soon be expanded to cover the entire province. "The founder of the nation Quaid-i-Azam Mohammad Ali Jinnah was educated in a madressa (the Sindh Madressatul Islam University). This is the kind of madressas we want to promote," said Asif Ali Zaradri, who co-chaired the meeting. He urged the chief minister to evict all Afghan nationals from the province.

The chief minister said he had ordered an operation in the areas right from Malir to Jamshoro, in Hyderabad and Dadu belt, Sukkur and Larkana, Ghotki and elsewhere. Referring to the Sehwan attack, IG AD Khawaja said that the use of ball-bearings and lead pieces in the suicide vest had resulted in the heavy loss of life. "It was a suicide attack," he added.

IG Khawaja said that fingerprints of all the victims had been obtained, adding that pieces of human flesh had also been taken from the crime scene and sent for DNA analysis. "Pieces of smashed mobile phones have been taken into custody and all CCTV and mobile footages and images have also been secured for analysis."

He disclosed that the Sehwan suicide bomber had also been identified. "He was a Pashto-speaking man from the tribal areas," he added. "We are close to identifying him. Either he belongs to Pakistan or Afghanistan or the border areas," sources quoted the IG as saying. According to him, CCCTV footages and three other facilitators had led to this conclusion.

"We have arrested two elected representatives of local bodies from Dadu and another suspected facilitator from Shikarpur … They were also involved in the Shikapur bomb blast. They have given us credible information … We will have full details very soon,"

Stressing the need for instituting strict checking the areas along the border with Balochistan and Punjab, Zardari said that facilitators of terrorists should also be dealt with an iron fist.

Effective surveillance:

Zardari also directed the chief minister to strengthen police by providing them the latest training, weapons, and adequate budget.

Stressing the need for effective surveillance, he said that Karachi should be equipped with 8 mega pixel CCTV cameras, controlled directly through a state-of-the-art control room.

The meeting also decided to remove encroachment from all important shrines. Land near shrines, including those of Shah Lateef Bhittai, Lal Shahbaz Qalanadar, Sachal Sarmast, Shah Aqeeq and others should be purchased for improving security.

On the advice of Zardari, Chief Minister Murad Shah decided to pay Rs10 million as compensation to the family of head constable Abdul Aleem killed in the Sehwan blast in addition to a job to his heir and other facilities.

Published in The Express Tribune, February 21st, 2017.