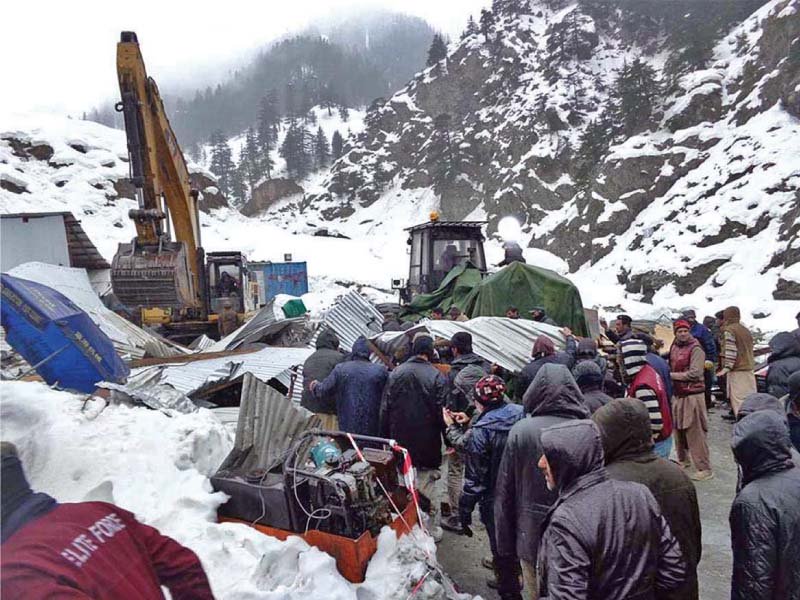 ---
CHITRAL: At least seven workers of Lowari tunnel in Khyber Pakhtunkhwa died while seven others WERE injured when an avalanche hit their residential facility on Sunday.

The avalanche hit rooms of the tunnel in Chitral during wee hours, burying 14 people alive, deputy commissioner said.

Lowari Tunnel connects the districts of Dir and Chitral in K-P, senior administration official Shahab Hameed said.

Avalanches claim 10 lives in Chitral

Security forces, police, elite force and district administration officials rushed to the incident and managed to rescue seven others from under the debris, he added.

Condition of two injured persons, Shakeel and Gul, was said to be critical who were airlifted to Peshawar, while others were shifted to district headquarters hospital (DHQ) Dir.

The deceased were identified as Rehmat Zada, Jalal Nadeem, Haji Iftikhar, Rehmat Ghazi alias Ilyas and Kamran, while the injured included Zamrud Hussain, Altaf Khan, Qaiser Hussain, Shakeel, Gul Alam and Mehboob Khan.

Killer avalanches hit Indian-held Kashmir

Meanwhile, snowfall at lower top caused electricity wires to break with power supply suspended to different parts of the district.

At least 13 people were killed and 20 homes destroyed by avalanches and heavy rain which struck the region earlier this month, while the death toll in neighbouring Afghanistan rose to almost 200.

Severe weather hits the country every year, with avalanches in winter and flash floods in summer. (With additional input from AFP)

Published in The Express Tribune, February 20th, 2017.
COMMENTS
Comments are moderated and generally will be posted if they are on-topic and not abusive.
For more information, please see our Comments FAQ