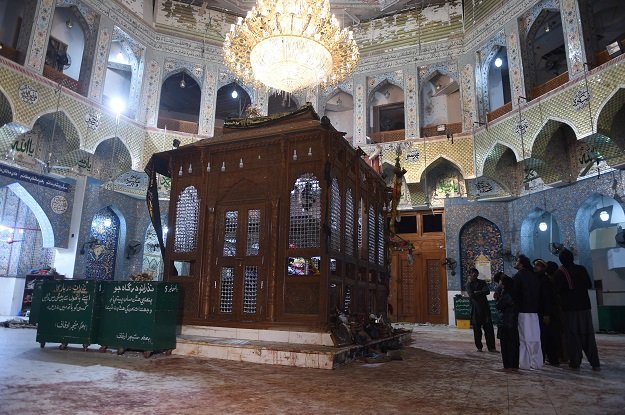 ---
HYDERABAD/ KARACHI: The suspected bomber who unleashed carnage at the shrine of revered Sufi saint Lal Shahbaz Qalandar on Thursday was pursued by a policeman upon the signal of an Auqaf department staffer who had spotted him and his three accomplices on closed-circuit television cameras, says the FIR registered with Sehwan police station on the complaint of SHO Rasool Bux Panhwar.

The bomber, however, detonated the charge before the police constable, Abdul Aleem Panhwar, could reach him.

"...when we reached the shrine, a staff [of Auqaf department] on duty met us. We saw four suspicious persons clad in shalwar-kameez. Three of them hugged the fourth and said: 'mubarak huje and khuda hafiz," the complainant said in the FIR. The SHO sent Head Constable Abdul Aleem after that suspect to body search him. "Abdul Aleem asked him to stop, but then by 1901 hours the explosion happened inside the shrine," he added.

Social media questions PPP govt's inadequacy after Sehwan blast

The three accomplices of the bomber disappeared in the melee that followed, "[but] the suspects were clearly seen and can be identified if we see them," the SHO stated. Surprisingly however, SHO Rasool Bux denied he had seen any suspects on CCTV cameras. "An Auqaf department staffer had informed us about four suspects, but when we reached there, they had already disappeared," he told The Express Tribune.

More surprisingly, Auqaf Secretary Riaz Soomro denied on Friday a news report attributed to him that his department's staffer had spotted any suspicious person. SHO Panhwar did not disclose the identity of the Auqaf department staffer.

Security and Auqaf department sources told The Express Tribune that the SHO and his team were not present at the shrine, the Auqaf department staffer reported suspicious activity to one of the two constables deployed there.

Panhwar also revealed that an FIR of the attack was supposed to be lodged with the Counter Terrorism Department in Hyderabad. "But we registered the case in emergency [at Sehwan police station]."

Meanwhile, no breakthrough has been made in investigations into the deadly Sehwan blast two days after the tragedy. The case has been transferred to the Sindh police Counter-Terrorism Department and is now being investigated by senior CTD officials, including Omar Shahid Hamid, Raja Omar Khattab and Mazhar Mashwani.

"Investigations are at a preliminary level. Nothing can be said exactly until we reach any conclusion. But we suspect Abdul Hafeez Pandrani is likely to have played a vital role," said CTD in-charge Mazhar Mashwani.

Lawyers boycott courts to protest Sehwan attack

A resident of Shikarpur listed among most wanted terrorists, Pandrani's name first appeared on the law enforcers' radar following the January 2015 Shikarpur Imambargah bombing, which claimed the lives of over 60 people.

Investigators believe Pandrani is currently operating an organisation from Afghanistan and is jointly working with the other banned militant outfits such as Jaish-e-Islam, Tehreek-e-Taliban Pakistan, Jamaatul Ahrar and Islamic State. "Definitely, Pandrani would have a support of other militant groups as he could not single-handedly carry out the attack," said another CTD senior official who wished not to be named. "We also suspected that Balochistan's territory was used in this attack – either as shelter or for logistical support – just like at the time of the Shikarpur bombing."

Investigators are also focusing on guest houses located near the shrine in Sehwan. They suspect the terrorists, the suicide bomber in particular, stayed at one of the guest houses in Sehwan before carrying out an attack. There are nearly 100 unregistered guest houses in the city.

"Hopefully we can get some possible lead in probing the case if we find the guest house where the suicide bomber possibly stayed," said a CTD officer.

Investigators have also detained some suspects from Sehwan for their alleged involvement in facilitating the terrorists who attacked the shrine. They were also trying to get some possible clues from suspects already arrested in other high profile terror cases, including the Shikarpur bombing.

Body parts of Sehwan terror victims 'found in garbage'

Meanwhile, additional IG Karachi Mushtaq Mahar on Saturday chaired a high level meeting at Karachi Police Office (KPO) regarding security issues of mosques, Imambargahs, shrines, churches, Gurdawaras, temples, worship places of Ahmadi community, government installations, shopping centres, public places, airport, railway stations and oil installations.  The meeting was attended by all zonal and district police chiefs and discussed measures to enhance the security of such sensitive places or areas so as to avoid incidents like the Sehwan blast.

Published in The Express Tribune, February 19th, 2017.
COMMENTS
Comments are moderated and generally will be posted if they are on-topic and not abusive.
For more information, please see our Comments FAQ