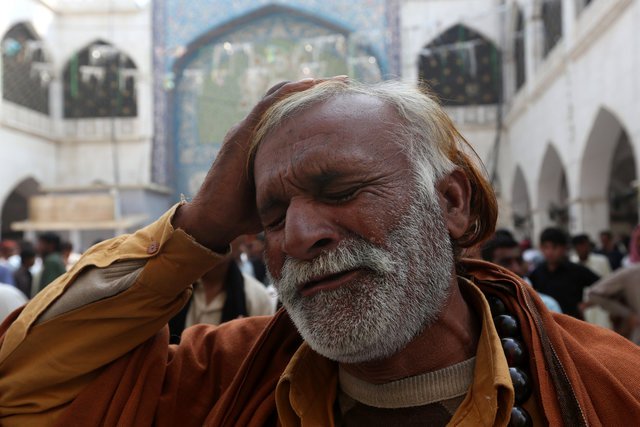 ---
SEHWAN: Working at a hospital isn't an easy job at any given day but Thursday was a day that the doctors at Sehwan taluka hospital will never forget.

"I have dealt with cases of road accidents and gunshots earlier but this day will remain unforgettable all through my career," said Dr Muhammad Jumman. "It was horrific."

There were only four to five doctors present at the hospital when a suicide bomb ripped through the shrine of Lal Shahbaz Qalandar on Thursday. All the victims were rushed to this small, 70-bed health facility, said the 45-year-old doctor.

Sehwan blast: Victims sent across Sindh for treatment

"I used to think about the other doctors who often deal with such situations in Karachi or Peshawar where these attacks occur very frequently," he told The Express Tribune. "I was literally shivering and I could hardly muster enough courage to act."

Dr Jumman and his fellow doctors still utilised their meagre resources to provide the best possible first aid to the patients. The critical cases were immediately sent to Nawabshah and Jamshoro, located roughly 96 kilometres and 134km respectively.

"The whole time I kept thinking: what was their fault? The innocent children crying in pain, some of them taking their last breaths," said Dr Jumman, as he wiped the tears rolling down his cheeks.

Social media questions PPP govt's inadequacy after Sehwan blast

Another doctor admitted that the hospital and the doctors were ill-equipped. "It is, unfortunately, our nature to make such things our priority once we deal with such calamities," he said.

A lot of nearby residents also came to the hospital to help out, said a paramedic Shah Muhammad. "With their help, we were able to do our jobs with courage. Otherwise, it seemed as if hundreds of goats and cows had been sacrificed in the surroundings," he said.

Published in The Express Tribune, February 18th, 2017.
COMMENTS
Comments are moderated and generally will be posted if they are on-topic and not abusive.
For more information, please see our Comments FAQ