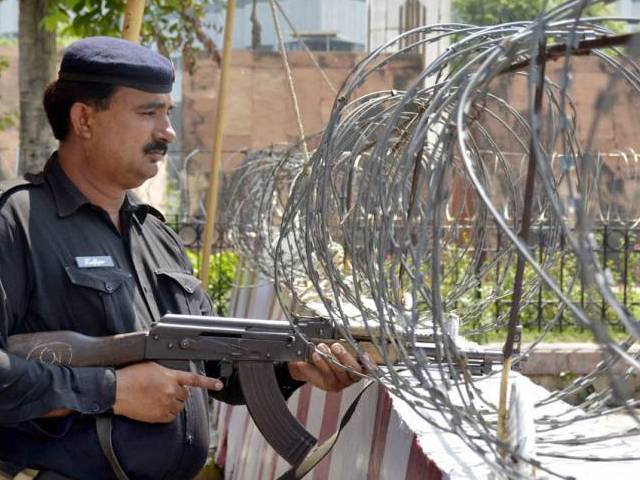 ---
LAHORE: Lahore may have just gone through one of its worst terror attacks in recent times, but that does not seem to bother the bored security guard at Jinnah Hospital. The man barely brushes his metal detector against visitors or patients before letting them through.

The register of Jinnah's emergency department shows that 300 people were admitted to the ward on that give day, while the numbers are similar at other hospitals of the city. These include the Lahore General Hospital, Mayo Hospital, Children's Hospital, Services Hospital and Punjab Institute of Cardiology (PIC).

These hospitals treat more than 10,000 people a day and are the busiest in the provincial capital.

A security guard, requesting anonymity, speaks about the inadequate security arrangements.  He says only two guards are deployed at the emergency gate and it is impossible to deal with people in such large numbers.

"We do not have the necessary weapons either and have little interest in endangering our lives for the sake of a few thousands rupees," he says. "The situation is terrible.

A private company had hired us and provided just two century-old weapons. How can we deal with an emergency situation?" he asks.

However, DIG Operations Dr Haider Ashraf is fully confident in the security arrangements of all public facilities.

Talking to the Express Tribune, he says security audits have been recently completed and a strategy will be chalked after the recent wave of attacks or threats.

"The installation of modern security cameras has been completed, while former servicemen are performing duties as private security guards at all major public hospitals," he states.

"Walkthrough gates, barbed wire, watchtowers and individual control rooms have been revamped, while personnel in civvies are deployed on the premises of all public hospitals."

The DIG continues that private security companies hired retired army personnel after consultations with the health department to safeguard medical facilities. He adds the police also provided them with the necessary training to deal an emergent situation.

"We have also significantly increased the number of personnel in civvies around all public hospitals," he confirms. "We are trying our level best."

About a year ago, security arrangements at medical colleges and teaching hospitals were outsourced to private companies, while the police department was asked to provide the necessary training.

A health department spokesman also assured that security arrangements at all hospitals have been beefed up after the heightened terror threat.

"The health department is frequently consulting law enforcement agencies to foil any untoward activity" he comments.

Meanwhile, the Young Doctors Association (YDA) has also demanded an increase in security at teaching hospitals. It suggests doctors and medical institutions should be protected by the Quick Response Force (QRF).

YDA General Secretary Dr Salman Kazmi stressed that the guards are not enough to handle an attack of some kind. He points 35,000 patients visit these government hospitals and 10,000 people are admitted. In addition, there are also 2,000 doctors working at these facilities.

Published in The Express Tribune, February 18th, 2017.
COMMENTS
Comments are moderated and generally will be posted if they are on-topic and not abusive.
For more information, please see our Comments FAQ