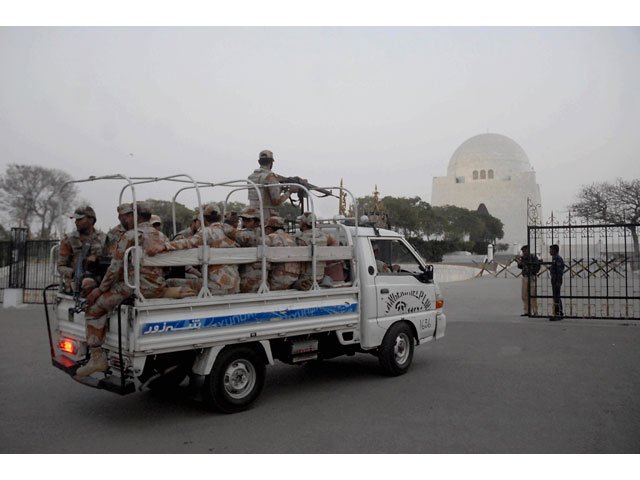 ---
KARACHI: Authorities closed on Friday Quaid-e-Azam's mausoleum for public as the province was put on high alert following a spate of terror incidents across the country.

On Thursday, 88 people were killed and over 300 injured in a suicide bombing at the shrine of Sufi saint Lal Shahbaz Qalandar in Sindh's Sehwan town.

"Yes, Quaid-e-Azam mausoleum has been temporarily closed till Sunday. It is likely to reopen on Monday," assistant engineer civil Quaid-e-Azam mausoleum management board Jawad Akram Mughal told The Express Tribune.

Bloodbath at Sehwan shrine

"The country is facing a new wave of terrorism and so the mausoleum was closed for security concerns. We are upgrading and enhancing security, such as deployment on the posts at the mausoleum till Sunday," said DSP Farhat Kamal.

Security was also beefed up at Mohatta Palace in Karachi. "Due to recent spate of violence we are witnessing, the museum has enhanced security measures for its visitors," read a notice board at the palace.




Meanwhile, Auqaf department is likely to close all shrines in Sindh for indefinite period for the aforementioned reasons. "We fear the terrorists can take advantage of security being diverted to Sehwan and  thus attack another shrine," said adviser to Sindh CM Ghulam Shah Jilani said.

72 dead as suicide bomber strikes inside Lal Shahbaz Qalandar shrine in Sehwan

These include shrine of Hazrat Shah Abdul Latif Bhitai at Bhit Shah, Abdullah Shah Ghazi in Karachi, Sachal Sarmast shrine in Khairpur Mirs and shrine of Hazrat Shah Inayat Shaheed at Jhok Shareef. There are nearly 84 shrines in Sindh.

Authorities are focusing to enhance the number of walk-through gates, metal detectors, CCTV cameras and security personnel to enhance and avoid any untoward incident at any shrine in the province.
COMMENTS
Comments are moderated and generally will be posted if they are on-topic and not abusive.
For more information, please see our Comments FAQ