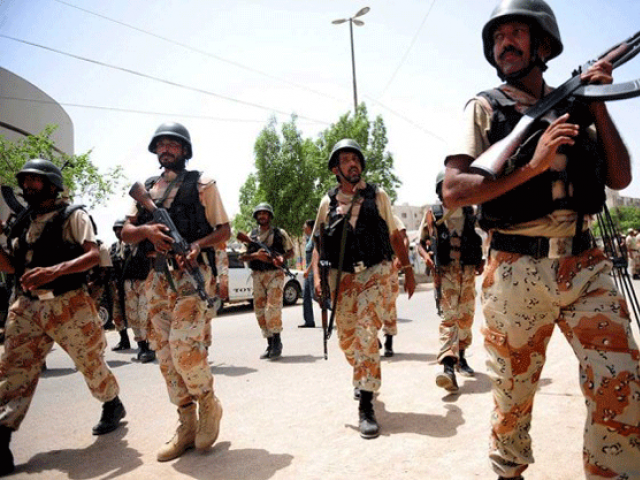 ---
KARACHI/PESHAWAR: The Pakistan Rangers, Sindh, claimed on Friday that of the 11 suspected terrorists killed in predawn raids in Karachi's Manghopir area, five were identified as "hardcore" terrorists belonging to proscribed organisations.

After the IS-claimed suicide bombing at Lal Shahbaz Qalandar's shrine in Sehwan, Sindh, that left over 70 people dead, security forces launched sweeping raids across the country and killed and arrested dozens of terror suspects.

Thursday's attack was the deadliest in the country following an assault on the Army Public School in Peshawar on December 16, 2014, that killed 154 people, mostly schoolchildren.

Bloodbath at Sehwan shrine

According to a statement issued by the Rangers, the militants killed were affiliated with three different outfits, namely Lashkar-e-Jhangvi, Tehreek-e-Taliban Pakistan's faction Jamaatul Ahrar and a self-proclaimed IS group.

"One of them had also been involved in the kidnap-cum-murder of American journalist Daniel Pearl in Karachi over a decade ago. Their criminal record has confirmed that they had been involved in various terrorists' activities," the statement read.

"They were all hardcore terrorists associated with different proscribed organisations. In addition, they were planning to carry out major terror activities in Karachi."

Call to action: Military operation demanded against target killers

Moreover, a spokesperson for the paramilitary force, while sharing details of criminal and terror activities of the terrorists with the media, said: "One of the terrorists identified as Malik Tasaduq Hussain was associated with LeJ and JuA and involved in various terror activities. He carried Rs500,000 as head money."

He got a month-long training in Afghanistan, the spokesperson added.

"Hussain was also involved in the kidnapping and murder of a US journalist in March 2002 in Karachi. Also, he had been involved in various other terror and criminal activities including extortion, kidnap and sectarian killings."

Others were identified as Noshad Khan who was associated with LeJ and JuA, Sheraz Ahmed was associated with IS and LeJ, Sheraz alias Sajjad was also associated with LeJ and JuA while the fifth one was identified as Azizullah who was associated with LeJ and the TTP.

In Khyber-Pakhtunkhwa, security forces launched an intelligence-based operation (IBO) in Burj Nasir Khan area located on the outskirts of the provincial capital early Friday morning, leading to a shootout that left three terrorists and a passer-by dead.

Also, police in Peshawar said that on a tip-off security forces launched a search operation in Burj Nasir Khan area and killed three terrorists after they offered resistance, adding that two terrorists managed to escape.

Army chief orders counter-terror operations in Punjab

"When they reached the area, miscreants opened fire on the security forces. The gun-battle lasted for 45 minutes in which three terrorists armed with AK47s and hand grenades were killed," the police said.

"One passer-by, identified as Zaitullah Khan, a resident of Mullagori area of the Khyber tribal area, was also injured during the exchange of fire. He died of bullet wounds in Hayatabad Medical Complex," a police official told The Express Tribune.

"The identities of the three terrorists have yet to be established," he said.

The government has been fighting the Taliban and other extremist groups for more than a decade. In recent years it has launched major offensives against militant strongholds in the tribal regions along the border with Afghanistan, but insurgents have continued to carry out attacks elsewhere in the country.
COMMENTS
Comments are moderated and generally will be posted if they are on-topic and not abusive.
For more information, please see our Comments FAQ