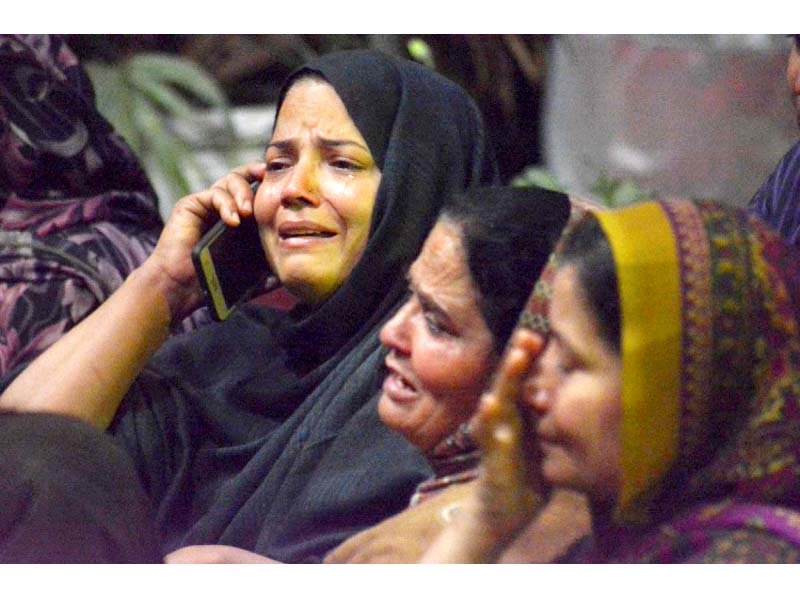 ---
LAHORE: The Hydra-headed monster of terrorism reared its ugly head again on Monday after a relatively long lull in terrorist violence in the country.

At least 13 people — among them two senior police officials — were killed when a suicide bomber detonated the explosives strapped to his body in the midst of a crowd of protesters outside the Punjab Assembly on Monday evening.

Terror strike: 'May God save them'

The deadly bombing capped a bloody day as elsewhere in the country three paramilitary soldiers were killed in a roadside bomb attack, while two explosives experts died while defusing a bomb.

A splinter group of the outlawed Tehreek-e-Taliban Pakistan, which has been routed from its stronghold in the tribal regions in a series of military operations, was quick to claim credit for the grisly violence at a protest rally in the Charing Cross area of Lahore.

IG Punjab Mushtaq Sukhera confirmed that DIG Capt (retd) Ahmad Mubeen, SSP Zahid Ikram Gondal and six other policemen were among the fatalities.

Sukhera said the blast took place at 6.10 pm. He said six other police officials were among the dead.

DIG Mobeen and SSP Gondal were negotiating with protesters who were staging a demonstration at a stone's throw from 90 Shahrah Quaid-i-Azam, where Chief Minister Shehbaz Sharif was scheduled to chair a meeting at his secretariat.

The suicide bomber walked up to where the police officials were holding negotiations with the protesters, according to witnesses. A policeman signalled him to stop but before he could get hold of him the bomber blew himself up.

Lahore attack: Cops killed in the line of duty

Citing preliminary investigation, Law Minister Rana Sanaullah confirmed it was a suicide blast and the target was police. "A van was parked on one side of the bomber which helped minimise the casualties," he told journalists.

Muhammad Iqbal, the chief of police's Counter-Terrorism Department, said vital forensic evidence has been collected from the blast site and sent to the Punjab Forensic Science Agency (PFSA) for analysis.




The bomb site was littered with sandals, shoes, banners and placards and blood was splattered all over. A police vehicle and a DSNG of private news channel were mangled in the bombing.

The National Counter Terrorism Authority (NACTA) had warned the police and other law enforcement agencies twice – first on December 16, 2016 and then on February 7, 2017 of a possible suicide attack in Lahore. In subsequent raids, three terrorists had been arrested from Islampura and Ravi Bridge areas. And during investigations, they revealed that their accomplices had entered the city to carry out an attack.

While speaking to reporters at the blast site, IG Sukhera reiterated the pledge that the sacrifices of the fallen police officials would not go to waste. "The army and law enforcement agencies, with the support of the nation, are fighting valiantly against terrorists and extremists," he added. "Such cowardly terrorist attacks cannot demoralise the forces. The terrorists will be defeated."

Prime Minister Nawaz Sharif strongly condemned the blast and directed the Punjab government to provide all possible assistance to the injured.

Lahore put on terror alert

"Such cowardly acts cannot deter the resolve of the nation to stand against terrorism and our government is committed to root out this menace," Sharif said in a statement issued by his office.

Chief Minister Shahbaz Sharif also denounced the deadly blast and expressed a deep sense of grief and sorrow over the loss of precious lives, especially that of DIG Mubeen and SSP Gondal. "Such cowardly acts are highly condemnable," he added.

The chief minister sympathised with the bereaved families and directed the administration to provide best treatment to the injured.

Chief of Army Staff General Qamar Javed Bajwa also condemned the terror act and instructed local army commander and intelligence agencies to provide all necessary assistance to civil administration for shifting injured to hospitals and apprehend those responsible for this heinous act, a press release of Inter Services Public Relations (ISPR) said.

[brid video="113077" player="7247" title="Funeral prayers offered of cops killed in Lahore blast"]

Published in The Express Tribune, February 14th, 2017.
COMMENTS (2)
Comments are moderated and generally will be posted if they are on-topic and not abusive.
For more information, please see our Comments FAQ