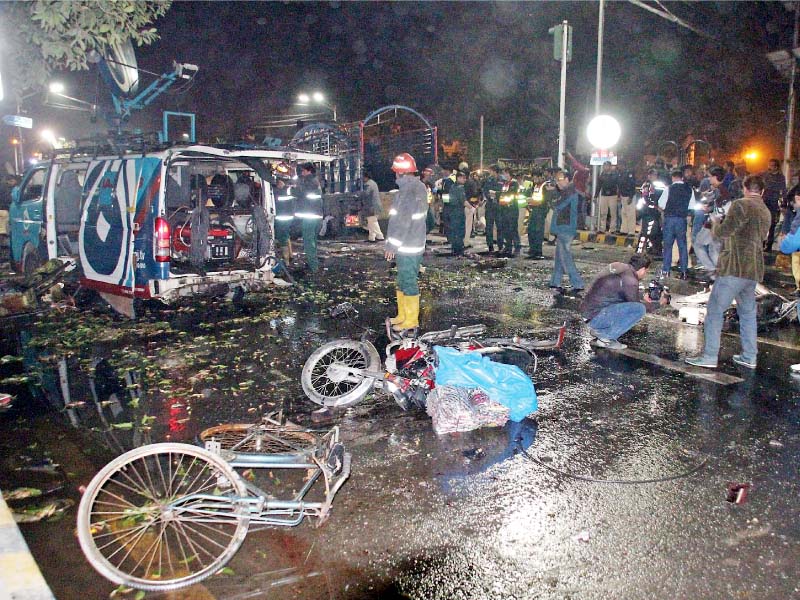 ---
LAHORE: For Shahid Malik, a protester at the chemists' demonstration at Chairing Cross, a phone call was a blessing in disguise. The man was right next to the place where the bomb went off but moved to take the phone call away from the noisy protesters.

"I was standing just at the blast site, I left the place to receive a phone call when shrapnel hit my leg," Shahid says while being treated at Mayo Hospital for his injuries. "I was actually facing the opposite direction of the bomb blast and cannot say if it was suicidal or a planted bomb."

The man said he would never be able to forget the 'horrific' sights. "I saw a family on a bike, lying in a pool of blood right after the blast. May God save them!"

Terror rears ugly head in Lahore – again

The protest of medicine dealers against government policies ended in bloodshed in Lahore on Monday as a powerful bomb ripped through the demonstrators, killing at least 10 people and leaving dozens more injured.

Another eyewitness, Zeeshan Khalid, a local medicine distributer, recalled the protesters were having food minutes before the explosion, as they had planned to sit at the place the whole night. "The martyred Traffic DIG along with the SSP and their guards were negotiating with our elders when the bomb went off," he added.

The protesters, who were making arrangements for sending their leaders into the Punjab Assembly for negotiations with government representatives, were left shell-shocked by the blast on the back of the truck being used as their stage at Chairing Crossing.

Many protesters were injured while those lucky fled the scene. Mahmood Ahmed, one of the protesters, said he was at a distance from the blast site and remained safe but many of his shopkeeper friends from Lohari Medicine Market were among the victims.

The protesters earlier held a rally at the Punjab Secretariat that resulted in a massive traffic jam on Mall Road and its adjacent areas. In some places, the chaos lasted some five hours before the bombing.

While public schools in Lahore will remain open today (Tuesday), the private schools association decided to keep schools closed for a day. Schools will reopen on Wednesday as per regular schedule.

Widespread protests

Chemist and pharmaceutical manufacturers had organised province-wide demonstrations against the government for amendments the drugs act of 1976, recommending stringent punishments and hefty fines for selling or manufacturing spurious drugs.

In Multan, the protesters held a sit-in at Chowk Nawan Shehr, shouting slogans against the Punjab chief minister, chief secretary and the health secretary. Massive traffic jams were witnessed on almost all the roads as drug stores and distributors associations observed a complete shutter-down strike.

In Bahawalpur, a complete shutter down was observed by the chemist association against the amendments in drugs act. The protesters gathered in front of Bahawal Victoria Hospital, Bahawalpur and shouted slogans carrying placards inscribed with slogans. They also blocked the Circular Road for vehicular traffic, paralysing routine life.

In Rahim Yar Khan also, medical store owners took to the streets, demanding the government address their grievances and take back its decision to facilitate those associated with the drugs supply business.

Internal differences

Medical stores in a few areas of Lahore were shut down in protest on Monday, creating a shortage of medicines in areas near Jinnah and Mayo hospitals.

Health department officials were reportedly requesting pharmacy owners to open the shops when a series of tweets by the Punjab chief minister aggravated the situation.

"Amendment in drug act is meant to stop production of spurious drugs. Mafias and cartels will not be allowed to play havoc with people's lives," Shehbaz Sharif tweeted. "A poor patient dying due to spurious and substandard medicines is as gruesome as the innocent killed by bullets."

Pakistan Drug Lawyers Forum President Noor Muhammad said all chemist shops would remain closed for an indefinite period until the government withdraws the amendments.

Terming the changes 'derogatory', he said the new law would break the back of the pharmacy industry. He claimed chemists from Punjab, Sindh and Balochistan were all on the same page and have closed their shops.

Meanwhile, the Pakistan Chemists Retailer Association's Ishaq Mayo said the pharmacy industry fully supported the government policy to regulate herbal and homeopathic medicines. "Medical stores and chemists selling counterfeit life-saving drugs to addicts and young people must be dealt with iron hands," he added.

(additional reporting by our correspondents in Multan and DG Khan)

Timeline Of Terrorist Attacks In Lahore

2016 March 27

72 killed, 300 injured in suicide bombing at Gulshan-e-Iqbal Park on Easter Sunday

2015 February 17

Five dead, 24 injured in blast near  Police Lines in Qila Gujjar Singh

2015 March 15

15 killed,  70 injured in attacks on two churches in Youhanabad 

2014 November 2

60 dead, 110 injured in suicide bombing at Wagah Border

2013 July 7

 Five killed, 46 injured in blast on food street in Old Anarkali near Badshahi Mosque

2013 October 10

 Man killed, 16 injured in explosion outside the Sindhi biryani hotel in Anarkali

2012 April 24

Four dead, 25 injured in bomb blast on a platform of Lahore railway station

Published in The Express Tribune, February 14th, 2017.