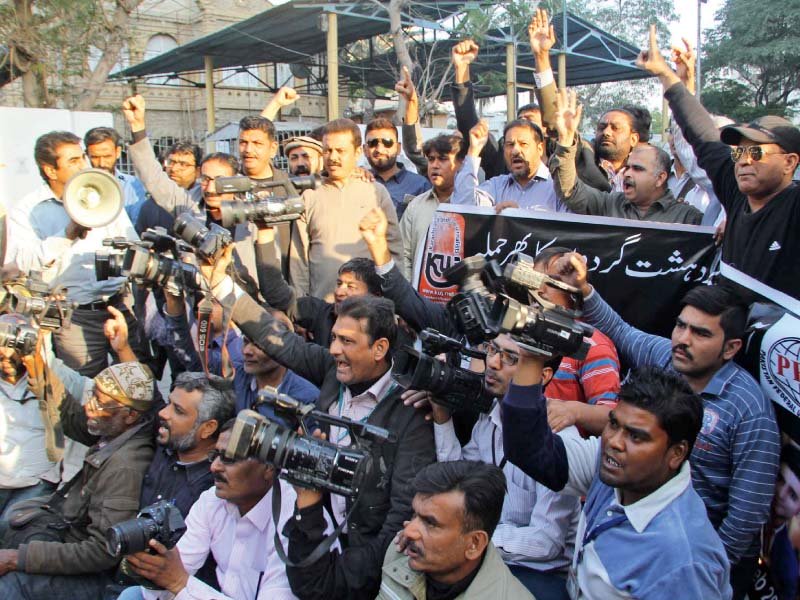 ---
KARACHI: Young cameraman, Taimur, who died in the attack on a Samaa TV van on Sunday was the sole breadwinner for his family of five.

Since his father became paralysed, the 22-year-old took care of the family income by juggling two jobs - one in a buckle factory during the day, and the other as an assistant cameraman for the news channel, which he joined more than a year ago.

"I always asked him to not work this hard as he was so young and was doing two jobs," said one of his elder sisters. "But he always ignored me and told me he was working to make sure we have enough money for my wedding."

Cameraman killed as Samaa TV's van attacked in Karachi

At the family's small house in Orangi Town, Taimur's mother was in shock, continuously begging for his return. "Ya Allah, please give my son back," she said with tears rolling down her eyes.

As the family dealt with the grief, there was only one question they struggled to answer: why was Taimur killed and what did he do wrong? "What did my son do wrong to? He took responsibly of the house at a young age and he wanted to get money for his sister's wedding. Was that his mistake?" questioned his father, Amin Khan. "I will say only one thing. This [terrorism] should be eliminated from our country."

The young cameraman was laid to rest at Paposh Nagar graveyard on Monday after his funeral prayers were offered at Bilal Masjid. Taimur was gunned down on Sunday evening when armed motorcyclists targeted Samaa TV's digital satellite news gathering van near KDA Chowrangi in North Nazimabad. The media men were on their way to cover a cracker attack at a police armoured personnel carrier (APC) when they came under attack.

Investigations

Though Tehreek-e-Taliban Pakistan (TTP) issued a statement claiming responsibility of the attack, the investigators have no leads to probe the case. Sindh IG Allah Dino Khawaja has, however, formed two separate special police teams, headed by District Central SSP Muqaddas Haider and SP Samiullah Soomro.

TTP claims responsibility for attack on Samaa TV van in Karachi

The initial investigation suggested that the shooting was carried out by at least four armed men on two motorcycles. "Apparently, the same assailants were behind both the attacks," said North Nazimabad DSP Naeem Khan. "After attacking the police personnel carrier, they stayed to attack the media arriving for news coverage."

Police officials suspected, however, that it was not particularly an attack on Samaa TV but on the media in general. "The van did not have Samaa TV's logo. It was white in colour," said Karachi police chief AIG Mushtaq Mahar. "The culprits involved in about 90% of the terrorism cases have been arrested and these culprits will also be arrested soon," he assured.

Police investigators have also obtained forensic reports of the two empty shells of 9mm pistols used in the incident. "The empties we recovered from the crime scene have no previous history of being used in any criminal activity in Karachi," said an officer of Sindh Police forensic division.

The police have registered an FIR No. 28/17 under sections 302 (murder) of the Pakistan Penal Code and section 7 of the anti-terrorism act against unidentified persons on behalf of Samaa TV employee, Syed Imtiaz Ali, who was also in the van at the time of the shooting.

Lahore attack: Cops killed in the line of duty

AIG Mahar has also announced a prize money of Rs1 million for anyone who provides information on the killing of the cameraman. He promised to keep their identity confidential.

This is the fifth such incident to have taken place in Karachi and so far five media workers have been killed, including three employees of Express Media Group. Two suspected members of banned religious outfit, Lashkar-e-Jhangvi, were arrested in January 2016 for their alleged involvement in the Express attack.

Meanwhile, several journalists gathered outside Karachi Press Club to protest the killing.

Published in The Express Tribune, February 14th, 2017.