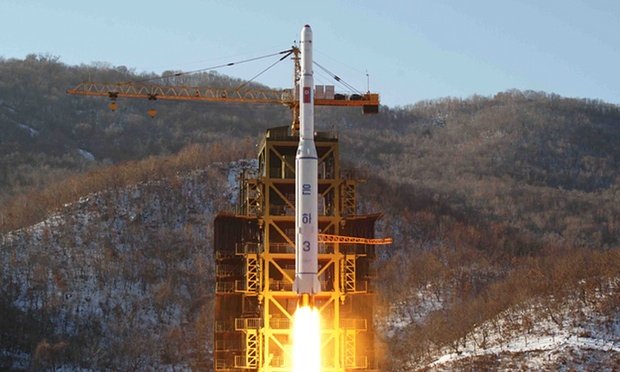 ---
SEOUL: North Korea on Sunday fired a ballistic missile into the sea in an apparent test of new US President Donald Trump, who responded by pledging '100 per cent' support for Washington's key regional ally Japan.

Japanese Prime Minister Shinzo Abe, whose country would be in range of any hostile North Korean launch, called the test 'absolutely intolerable' during an impromptu press conference with Trump in Florida.

South Korea's Joint Chiefs of Staff, altering an earlier military assessment, said the test was 'highly likely' to have been of a modified intermediate-range Musudan missile.

The Musudan has a range of 2,500-4,000 km, meaning it could threaten both Japan and US bases on Guam.

The missile was launched around 7:55 am from Banghyon air base in the western province of North Pyongan, and flew east towards the Sea of Japan (East Sea), the South's defence ministry said. It flew about 500 kilometres before falling into the sea, a ministry spokesman said.

"Today's missile launch... is aimed at drawing global attention to the North by boasting its nuclear and missile capabilities", the ministry said in a statement. "It is also believed that it was an armed provocation to test the response from the new US administration under President Trump," it added. It was the first such test since last October.

Trump, speaking alongside Abe, said Washington was committed to his country's security. "I just want everybody to understand and fully know that the United States of America stands behind Japan, its great ally, 100 per cent," he said, without elaborating.

Japan's top government spokesman Yoshihide Suge said in Tokyo the test was "clearly a provocation to Japan and the region".

North Korea is barred under UN resolutions from any use of ballistic missile technology. But six sets of UN sanctions since Pyongyang's first nuclear test in 2006 have failed to halt its drive for what it insists are defensive weapons.

Seoul-based academic Yang Moo-Jin said the latest test was 'a celebratory launch' to mark the February 16 birthday of Kim Jong-Il, late ruler and father of current leader Kim Jong-Un.

Published in The Express Tribune, February 13th, 2017.
COMMENTS
Comments are moderated and generally will be posted if they are on-topic and not abusive.
For more information, please see our Comments FAQ