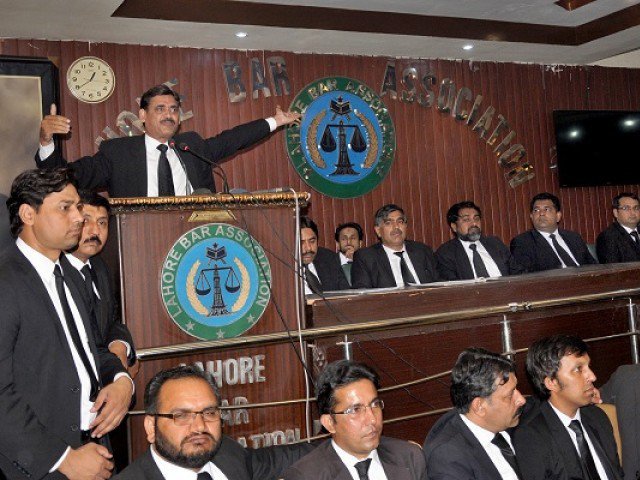 ---
LAHORE: Differences over biometric or manual voting for the upcoming Lahore High Court Bar Association (LHCBA) elections are likely to turn into a legal battle after the Pakistan Bar Council vice-chairman's nod for manual voting. The elections are to be held on February 25.

Several candidates are planning to challenge the voting system before the Lahore High Court over differences with the orders of the PBC vice-chairman, who has directed the LHCBA election board chairman to hold elections manually through ballot papers.

Ahsan Bhoon, in his order on an application by presidential candidate Ramazan Chaudhry, held the recent elections of the Lahore Bar Association, the failure of the biometric system forced the polls to be postponed and ultimately the elections were held manually.

He alleged around 1,000 votes were added in favour of some candidates only with one click in the biometric system and the elections had to be postponed. Keeping in view the contentions raised by the petitioner, the election board chairman was directed to hold the LHCBA elections through ballot papers.

But the likeminded candidates held a meeting with LHCBA election board chairman Advocate Javed Iqbal Raja and expressed willingness for the biometric voting system.

Advocate Javed told The Express Tribune that after the orders of the PBC VC, he was preparing both methods to use for polling so that the voting process does not get affected in case the issued was referred to court.

He said he ordered the use of biometrics for voting after consultations with all candidates, but now the PBC was asking him not to use the method.

He added that most of the candidates were still in favour of biometric voting but he would follow the PBC order if it was not struck down by the court.

Advocate Khurram Latif Khosa, one of the presidential candidates, told The Express Tribune that he was in favour of biometric system like the majority of candidates. He added he was also weighing his options to move the court against this decision of the PBC

Khosa said the Bhoon group had announced support for Ramazan Chaudhry and passing an order on his application was tantamount to giving direct favour to him.

Another presidential candidate, Advocate Chaudhry Zulfiqar, is also planning to challenge this order before the court.

Total registered members of the LHCBA are 29,167 out of which 14,790 members have been registered with the biometric system. Total valid voters are 21,481 out of which only 12,481 voters have been registered in the biometric system.

Published in The Express Tribune, February 11th, 2017.
COMMENTS
Comments are moderated and generally will be posted if they are on-topic and not abusive.
For more information, please see our Comments FAQ