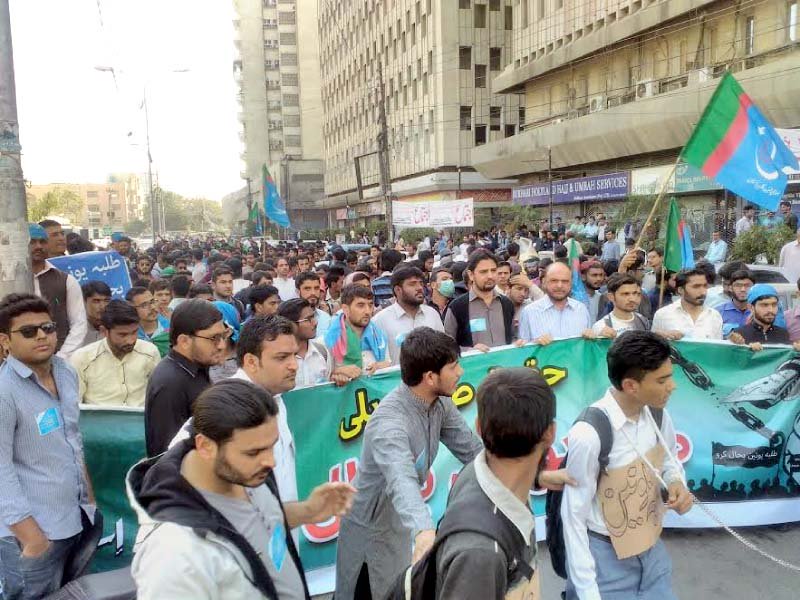 ---
KARACHI: Taking the first step in a nationwide campaign for the revival of student unions in academic institutions, Islami Jamiat-e-Talaba (IJT) demonstrated against the government along with more than 500 students all across the city from different colleges and universities.

Marking the 33rd anniversary of the nationwide ban of student unions on February 9, 1984, IJT Karachi's head Hamza Muhammad Siddiqui led a rally of students demanding the restoration of the unions for the rights of students.

Students held placards and shouted slogans in favour of the revival wearing head bands of IJT flags and customised shirts. They gathered in front of DJ Science College and walked in a procession, following a truck with loudspeakers.

IJT Pakistan head Shoaibuddin Kakakhel presented a resolution to restore the unions, which he insisted, is a legal right of the students. "The ban was implemented just to stop and silence the voices that speak for students' rights," said Kakakhel, addressing the rally at Karachi Press Club.

Every group of people from the tankers mafia and railway employees, to labourers and doctors have unions but if no one has a union, it is students, he said. The reason behind the increase in political wings and ethnically divided student parties is because the students do not have one uniform union to resolve their issues and give a voice to them, he added.

According to Article 17 of the Constitution, every group has a right to have a union of their own but students are banned by the 'dictators' of the country while even the democratic governments never stood up for their rights either. "The feudals, who are ruling us, cannot bear the revival of student unions because they are no different than dictators in silencing the voice of the educated youth," said Kakakhel.

Criticising the democratic government and their promises, Siddiqui said that many false promises have been made but nothing substantial been done so far for the restoration of student unions.

Siddiqui claimed that 2017 will be the year of the revival of student unions, he said, adding that he and his team in Karachi will even go to Islamabad for the nationwide campaign.

Published in The Express Tribune, February 10th, 2017.
COMMENTS
Comments are moderated and generally will be posted if they are on-topic and not abusive.
For more information, please see our Comments FAQ