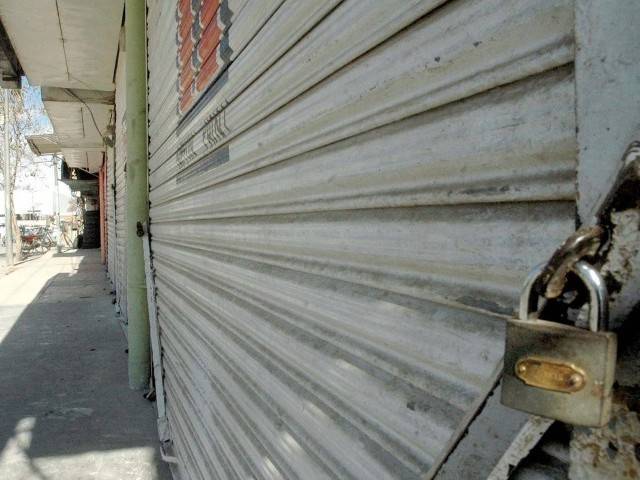 ---
ABBOTTABAD: The local traders have rejected an increase in monthly rent of shops owned by Tehsil Municipal Administration (TMA) Abbottabad.

The TMA, a couple of days back, has issued notification of about 70% raise in the monthly rent of shops, to the presidents and secretaries of the representative bodies of all markets and bazaars.

Speaking at a meeting held to discuss the rent hike by TMA on Wednesday, the office bearers of trade bodies of different bazaars and markets of Abbottabad out rightly rejected the increase and termed it against the rent rules.

A representative of All Traders Association Sardar Aslam said that as per rules TMA could only increase rent by 10% annually.

The decision of 70% increase would be against the generally accepted rent laws and would pose an unbearable burden on the small shopkeepers who have meagre income and already facing problems.

Adeel Abbasi, another office-bearer of the association, said that the people of Abbottabad had elected the local bodies' members for addressing their problems but their silence on this decision of TMA has annoyed the local traders proving that they were least bothered about the plights of common citizens and small shop owners.

The participants of meeting unanimously decided to meet with tehsil nazim and TMA authorities apprising them the problems and if they failed the traders would again meet and decide whether they should go for protest or legal remedy from the court of law.

While the tehsil nazim was not available for comment, an official at the Tehsil Municipal Administration taxation branch confirmed that the TMA has increased rents by up to 70% and the new rents would be effective from February this year.

About the rules, he said that it was true the TMA had earlier increased rents at the rate of 10%, but during a recent survey it was proved that the tenants registered with the TMA had sublet their shops for 10 times higher rent while they were paying a small amount to TMA which was a loss to the government exchequer.

He said that a shopkeeper who was paying Rs3,000 to TMA has sublet his shop to another businessman for Rs30,000 per month.

Published in The Express Tribune, February 9th, 2017.