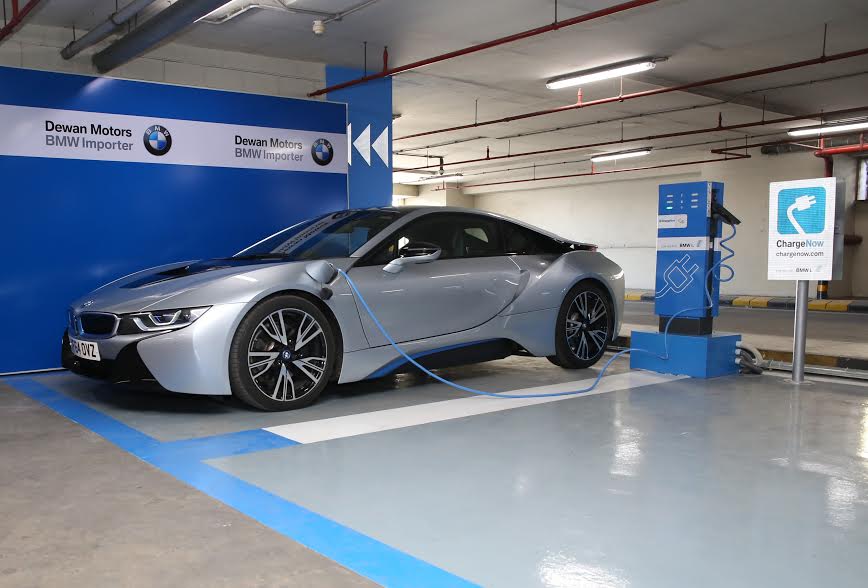 ---


Following the inauguration of Pakistan's first-ever public charging station at Emporium Mall in Lahore, Dewan Motors has installed another station for plug-in hybrid and electric vehicles at Dolmen Mall in Karachi.

This is an ongoing drive of Dewan Motors to provide public charging stations called ChargeNow from BMW for plug-in hybrid and electric vehicle of German origin in Pakistan.

"We are happy to be the pioneer in this technological advancement because we foresee the growth potential of Electromobility in Pakistan", said Chairman Dewan Motors Dewan Mohammad Yousuf Farooqui.

"Though we provide complementary BMW iWallbox domestic chargers to our customers and they charge their vehicles either at home or at work, the BMW ChargeNow infrastructure will allow them to top up at convenient locations while on the go," added Farooqui.

BMW ChargeNow is a network of charging stations that provides BMW plug-in hybrid and electric vehicle owners with easy, quick and secure charging services.

By 2030, 60 % of the world's population is expected to live in cities. When it comes to shaping future mobility, the BMW Group considers the entire value chain, offering innovative services and solutions to improve urban mobility.

Dewan Motors, with this initiative has put Pakistan amongst the developed countries that understand the importance of depleting natural resources and are geared to take measures to protect them.

"We are concerned about the environment and want to safeguard our planet's future", said CEO Dewan Motors Nabiha D Yousuf.

"Our latest BMW plug-in hybrid and electric vehicles offer even greater mobility than conventional Hybrid vehicles making it possible to have everyday motoring purely on electric mode with practically little to no requirement for fossil fuels", she added.