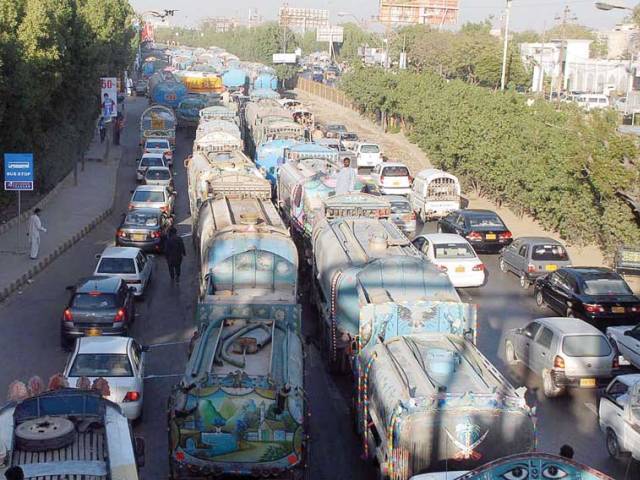 ---
SUKKUR: A large number of vehicles remained stranded at the Jacobabad Bypass for the fourth consecutive day on Saturday following a sit in staged by oil tanker and truckers associations decrying high handedness of law enforcers.

The deputy commissioner, Jacobabad SSP and Larkana DIG attempted to intervene but made no progress. The oil tanker and truck owners are demanding action against the police and Rangers personnel, who allegedly barred them from travelling with more than 250 litres of fuel in their tanks.

All Pakistan Oil Tankers Association chairperson Shams Shahwani said that they drive large vehicles that require more fuel than smaller vehicles. "On average, the fuel tanks of oil tankers are designed to carry 400 to 450 litres of oil, depending upon the travelling distance of the vehicle," he explained.

"Our vehicles travel long distances and therefore most oil tanker and truck drivers travel with two full fuel tanks so as to reach their respective destinations without any trouble," said Shahwani. "But the policemen and Rangers personnel pump out the extra oil leaving behind only 200 to 250 litres in the tanks, which is simply intolerable," he lamented. Interestingly, he said the officials mostly stop vehicles coming from Balochistan to Sindh, accusing them of smuggling Iranian petrol.

Jacobabad deputy commissioner Agha Shah Nawaz told The Express Tribune that negotiations are under way with the protesting oil tanker and truck owners and he was hopeful that their sit in would come to an end soon.

Published in The Express Tribune, February 5th, 2017.
COMMENTS
Comments are moderated and generally will be posted if they are on-topic and not abusive.
For more information, please see our Comments FAQ