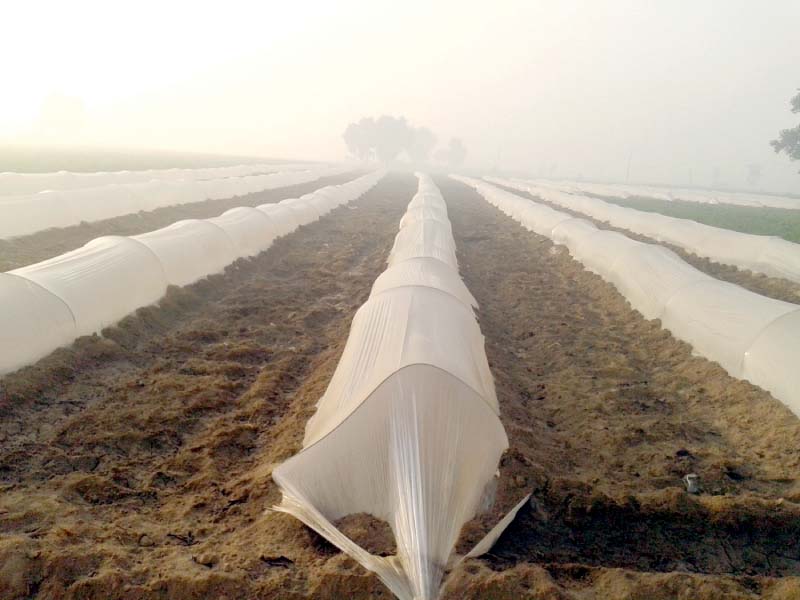 ---
GUJRANWALA: Tunnel farming is a low-tech procedure that helps farmers in Punjab to reap more profits from the vegetable crops that are mainly grown in summer. In recent years, tunnel farming has gained popularity in various districts of Punjab, including Nankana Sahib, Sheikhupura, Lahore and Kasur, Gujranwala, Arifwala, Vehari, Mailsi, Faisalabad, Jhang, Multan and Rahim Yar Khan.

Farmers in Punjab have started adopting the technique to boost yield and produce high quality vegetables.

This technique involves constructing tunnels like greenhouses i.e. hut-like structures with plastic that serve as cocoons for growing.

Tunnel farming operates on the principle of creating summer-like conditions during winter. The vegetables sown in summer are then cultivated in these tunnels during winter. The entire farming area is covered by transparent polythene sheath fixed over D-shaped bamboos or steel pipes. The soil is also covered with black coloured polythene sheath with small holes in which the seeds are sown.

With the passage of time, Tunnel farming is finally getting attention of the provincial government. The technology not only helps produce the crop at least two months earlier than the traditional cultivation season, it also saves the crop from all sorts of severe weather and handling related wastes.

According to an estimate, tunnel farming covers more than 200,000 acres of land in Punjab.  In June 2015, the Punjab government signed a cooperation deal with a Turkish firm that envisages Turkish support in five specific areas of agriculture, including tunnel farming.

Tunnel farming technology gives much higher produce of vegetables than those grown in open fields. Besides, their quality is also better because of direct intake of nutrients via feeding tubes.

Published in The Express Tribune, February 4th, 2017.