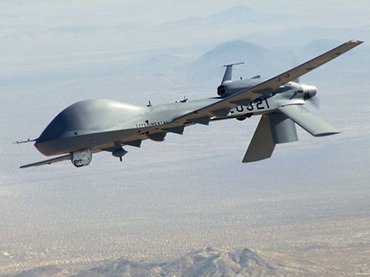 ---
At least five Afghan Taliban militants were killed in a US drone strike in Khost area on the Pak-Afghan border region on Thursday.

The nephew and son-in-law of the leader of a breakaway Taliban faction, Mullah Muhammad Rasool, is among those killed in the first drone strike in the region under Trump administration.

According to a local police spokesperson, Mullah Akhtar Rasool and four others were moving towards their hideout in a car when they were targeted by the drone. The car has been completely destroyed in the attack, the spokesperson added.

Afghan Taliban's top dissident 'detained' in Pakistan

The claims, however, have not yet been independently verified.

In March last year, Pakistani authorities 'detained' Mullah Rasool, two Taliban leaders claimed. Mullah Rasool was chosen in early November 2015 by several Taliban cadres opposed to Mullah Akhtar Mansoor's ascendency to head the splinter group.

The two Taliban leaders, who spoke to The Express Tribune on the condition of anonymity, did not say when Mullah Rasool was taken into custody but confirmed that he had fled recent infighting in southern Afghanistan.
COMMENTS
Comments are moderated and generally will be posted if they are on-topic and not abusive.
For more information, please see our Comments FAQ