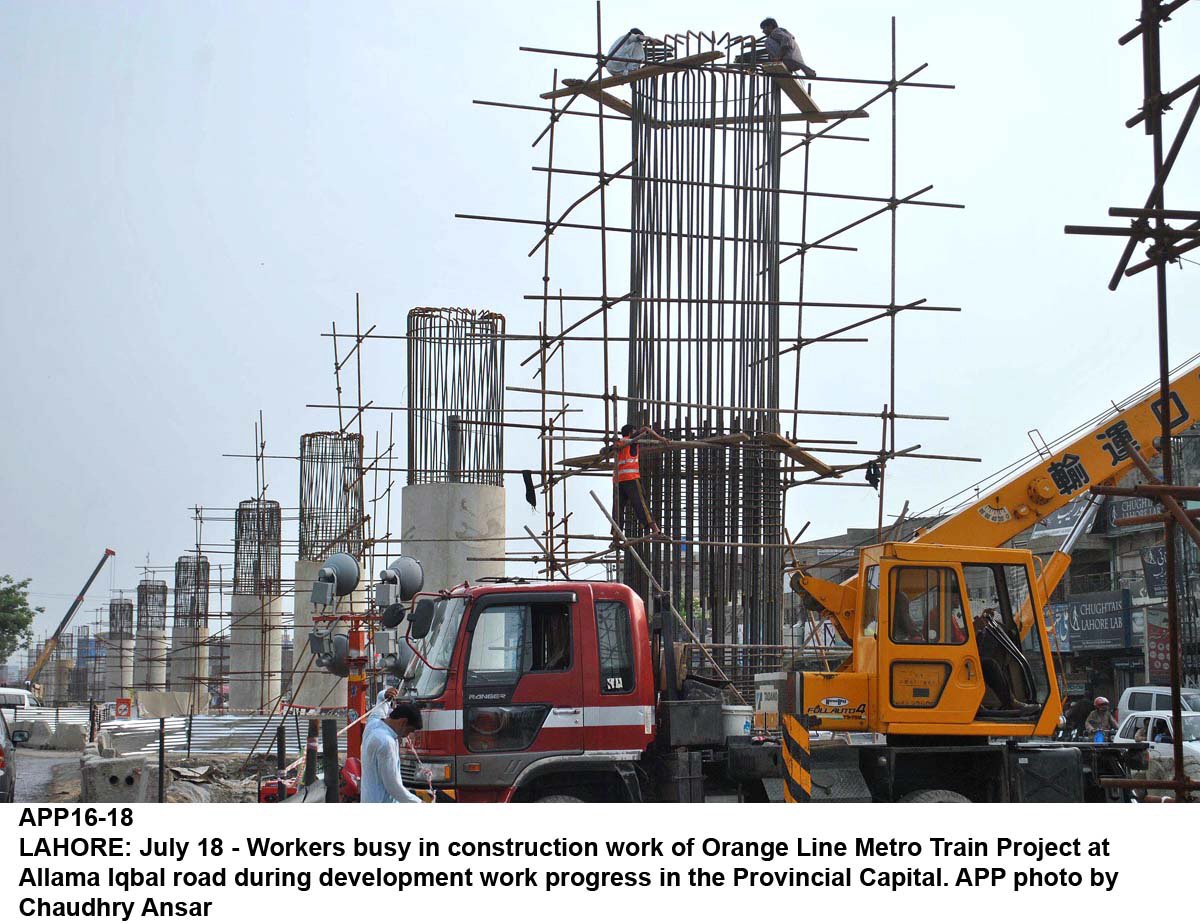 ---
LAHORE: Chinese contractors of the Lahore Orange Line Metro Train (OLMT) project, CR-NORINCO, strongly criticised the provincial government for its failure to get a go-ahead from a court to start construction activity at a dozen places under litigation.

During the project's weekly progress meeting, Chinese engineers expressed their concerns over the delay which has lasted over a year. They asked Pakistan authorities to outline the time period required to get the metro train project cleared from the court. They pointed out no construction activity could be started on the underground central station.

China financing Orange Line Metro Train: Shahbaz Sharif

The Chinese engineers were of the opinion that construction of the underground central station near Mall Road would be critical to the completion of the project. They stressed the project would be delayed if more time was wasted in litigation.

Representatives of Chinese contractors also pointed out that despite the reissuance of the contract, the pre-casting yard for OLMT Package-II (from Chauburji and Ali Town) had not been established. They inquired from local authorities why the new contractor was not using pre-casting yard established by the previous contractor.

OLMT Steering Committee Chairman Khawaja Ahmad Hassaan explained to the Chinese representative that the court had barred the Lahore Development Authority (LDA) and new Package-II contractor, ZKB-Reliable Joint Venture, from using the private property of the previous contractor. The new contractor, he said, had already started developing a pre-casting yard.

Hassaan directed the National Engineering Services Pakistan (Nespak) and LDA to remodel all roads along the metro train route.

He also asked the Traffic Engineering and Transport Planning Agency (TEPA) to prepare a detailed plan for roads underneath the elevated metro train track. For the smooth flow of traffic, u-turns and intersections should be designed and built where necessary, he added.

He also directed the connection of all metro stations through footpaths for pedestrian traffic. Hassaan asked authorities to remove encroachers from government lands along the route and develop parks and ensure green spaces.

The chairman instructed local authorities to build parking places for cars along the OLMT route.

Orange Line construction: Chinese contractors worried over security measures

Meeting participants were informed that Punjab Procurement Regulatory Authority (PPRA) had allowed Water and Sanitation Agency (WASA) to float an open tender for the 13-kilometre-long new drain from Haji Camp to Jain Mandir, Chaburji, Sham Nagar and Band Road. The agency had adopted a special procedure to avoid a lengthy prequalification process and had invited tenders from construction companies by February 20.

It was disclosed in the meeting that 60% civil works had been completed, including 75% on Package-I from Dera Gujjran to Chauburji, 45% on Package-II, 63% on Package-III (depot) and 59% on Package-IV (stabling yard). Chinese contractors would start electrical and mechanical works on the completed portion by next month.

Meeting participants were informed that the federal government had waived customs duty and taxes for machinery and equipment imports for the OLMT. Similarly, a discount was also offered to rail-based mass-transit projects of Quetta, Karachi and Peshawar for which a notification was issued.

Published in The Express Tribune, February 2nd, 2017.
COMMENTS (3)
Comments are moderated and generally will be posted if they are on-topic and not abusive.
For more information, please see our Comments FAQ