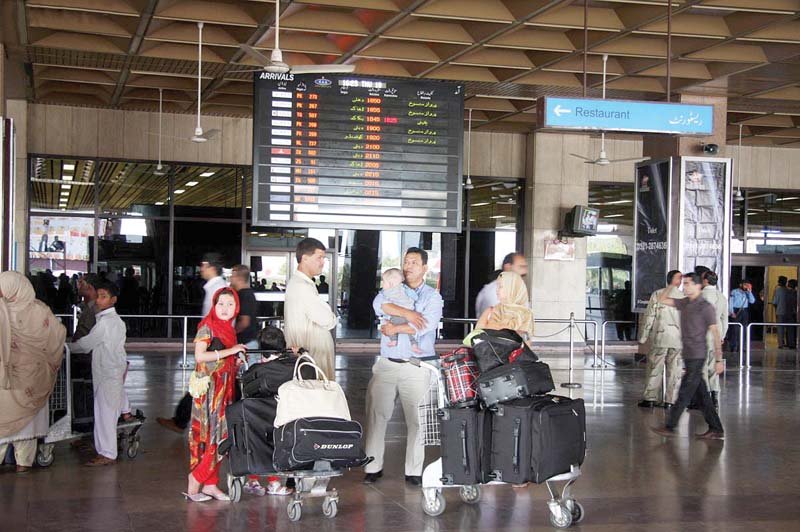 ---
KARACHI: Frantic calls are being made and travel itineraries being changed as Pakistani travellers to the United States become increasingly worried.

Taniya, 23, came to Dubai to visit her father and celebrate her birthday next week with him. Given the uncertainty surrounding US President Donald Trump's executive order, she decided to head back to the US on Monday instead. Taniya holds a Green Card to reside in the US but feared a backlash in case Trump decides to include Pakistan in his 'Muslim ban'.

US hints at extending visa ban to Pakistan

A 19-year-old Pakistani student studying in Canada, Haya, said she had to cancel her plans to travel to Washington DC for spring break in fear of being detained at the border. "I wanted to visit my aunt and cousins in DC but I'm scared of what might happen if the American government includes Pakistan in the list of banned countries," she said. "I long for a home-cooked meal but I'm being deprived of this because of Trump."

Our correspondents

Both the travellers refused to share their real names for fear of backlash from US visa officers during their future travels. Meanwhile, the US Consulate in Karachi's spokesperson Sharlina Morgan refused to comment. She told The Express Tribune that she can only direct to the White House website.

Most travellers, many of whom possess a Green Card permanent residency document for the US, fear they will be detained on arrival at the airport following Trump's recent executive order, banning immigrants from seven Muslim-majority countries.

Even though Pakistan has not made it to this list yet, the White House hinted it was only a matter of time. In response to a question during his interview to CBS News, White House chief of staff Reince Priebus said, "You can point to other countries that have similar problems like Pakistan and others - perhaps we need to take it further".

But was also quick to add that, "for now, immediate steps, pulling the Band-Aid off, is to do further vetting for people traveling in and out of those countries."

Pakistan not among countries to face visa ban: Trump

Local lawyers, who deal with immigration cases, have different opinions on the issue. Those going from Pakistan on a Green Card will not be affected, said senior lawyer Abrar Hasan. "The Green Card holders may have to go through stricter checks at the airports, as per the applicable security procedures, but they cannot be denied entry," he said. "And, if they [Green Card holders] are denied entry, then they have a legal right to approach the US courts," he added.

Advocate Farooq Ahmed believed that the ban can apply to Pakistani Green Card holders as well. "The Green Card does not give you the right to cast vote in the elections held in America," said Ahmed. "That means you do not enjoy the same rights as US citizens do," he argued. "Therefore, the Pakistani Green Card holders may not be able to challenge in the US courts if ban is extended to them as well."

Published in The Express Tribune, January 31st, 2017.
COMMENTS (14)
Comments are moderated and generally will be posted if they are on-topic and not abusive.
For more information, please see our Comments FAQ