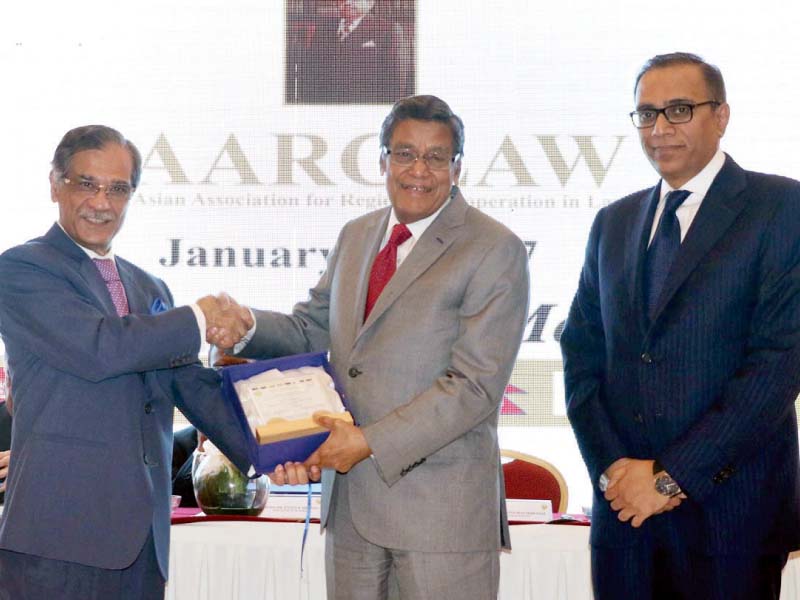 ---
KARACHI: Chief Justice of Pakistan Saqib Nisar on Saturday said the country's governance system, as set out in the Constitution, was based on tracheotomy of power, but the system's beauty was that there were checks and balances that preclude any institution of the state from encroaching the another.

"We, the judiciary are provided ample powers in the Constitution to act as an appellate court. In the exercise of inherent powers we can review the administrative actions of the executive, inter alia, on the touchstone of fairness, reasonableness, abuse or misuse of authority and the bona fides or the vires enactments of the legislature on the touchstone of the Constitution, if need be," he said while speaking to the participants of the SAARCLAW Conference at a local hotel in Karachi.

The CJP further said that the judiciary enjoys original jurisdiction under article 184(3) to look into the matters of public importance and in aid of enforcement of fundamental rights, while under article 187, the institution had to powers to do complete justice.

"But, the power to do these things does not automatically solve the problems faced by us as a nation," CJP Nisar said citing the recent suo motu notice taken by him of the incident involving torture on a ten-year-old child maid.

Without further commenting on the subjudice case, he observed that our problems, arising from poverty, go beyond those few individual cases highlighted by the media. "I am ever conscious of our collective duty to ensure social justice through our decisions where possible."

Justice Nisar said he desire to do his utmost to help build a judicial system which affords access to justice for all in a meaningful manner.

CJP observed that the common problems faced by the Saarc countries, was the problem of disenchantment of the general public, which stemmed from denied justice.

He said Saarc presented an ideal forum in which regional states could come together and not only envision but also implement a stronger future for our region.

The conference commenced with Justice Nasim Hasan Shah Memorial Lecture and concluded with discussions on the successes and failures in the Saarc region.

In his address, the Chief Justice of Sri Lanka Justice K Sripavan said that people of the Saarc region have much expectation from legal system and it is the duty of the judges, lawyers to endeavour collectively to ensure dispensation of justice to poor people and make efforts for social justice.

Published in The Express Tribune, January 29th, 2017.