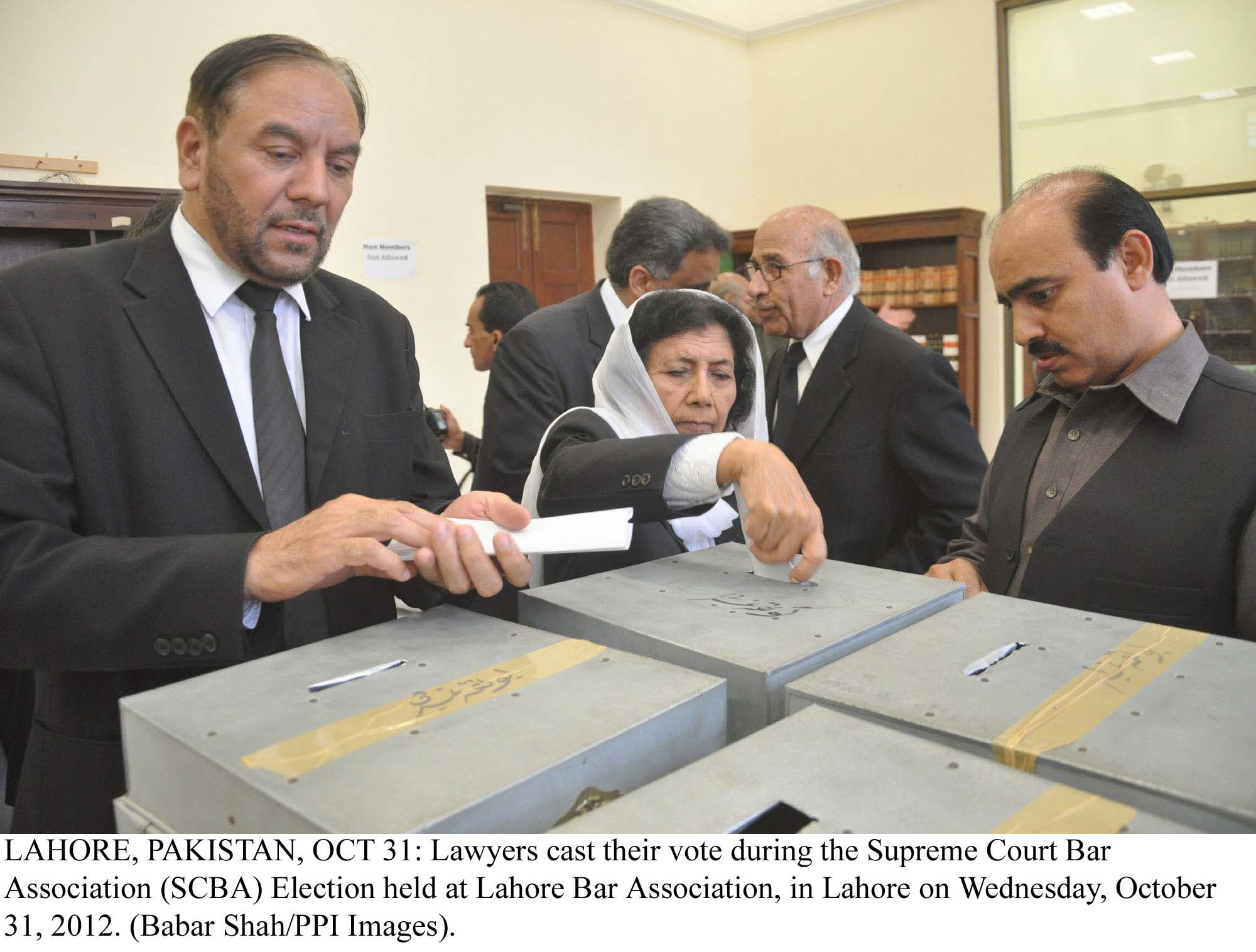 ---
LAHORE: Advocate Chaudhry Tanveer Akhtar of Hamid Khan's Professional Group became president of the Lahore Bar Association for 2017-18 by defeating his rival Advocate Malik Arshad of Asma Jahangir's Friends group.

In Monday's election of the Lahore Bar Association, Tanveer bagged 2,448, while Malik Arshad grabbed 1,861 votes in the presidential race. On the slot of two vice-president seats, Naveed Chughtai and Irfan Tarar were declared as the winning candidates who grabbed 2,255 and 1,681 votes, respectively.

On two seats of secretaries, Advocate Farhan Jafri bagged 2,155, while Malik Faisal Awan had 1,249 votes.

VP Model Town seat was already decided, while Advocate Alia Atif Khan was elected unopposed on the seat of Joint Secretary. Advocate Shahid Ali Bhatti was elected as Finance Secretary and Advocate Samina Tufail Malik was elected unopposed as auditor of the bar.

The election turnover was low as only 4,400 out of 17,900 (24.58%) eligible voters cast their ballots. Many lawyers said the delay in holding polling was the major reason behind a low turnout. Besides that, most lawyers remained busy in their duties on Monday and could not cast their votes.

Some lawyers opposed the decision of Pakistan Bar Council, which declared Muhammad Naeem Hasan Watto and Hassamuddin Khan Bisirya as unopposed winners. According to council's decision, Watto will enjoy the VP's slot for first six months while Bisirya will be the VP for the last six months.

The elections, previously scheduled on January 14, were delayed till January 23 after a biometric system adopted by the bar went out of order.

Published in The Express Tribune, January 25th, 2017.
COMMENTS
Comments are moderated and generally will be posted if they are on-topic and not abusive.
For more information, please see our Comments FAQ