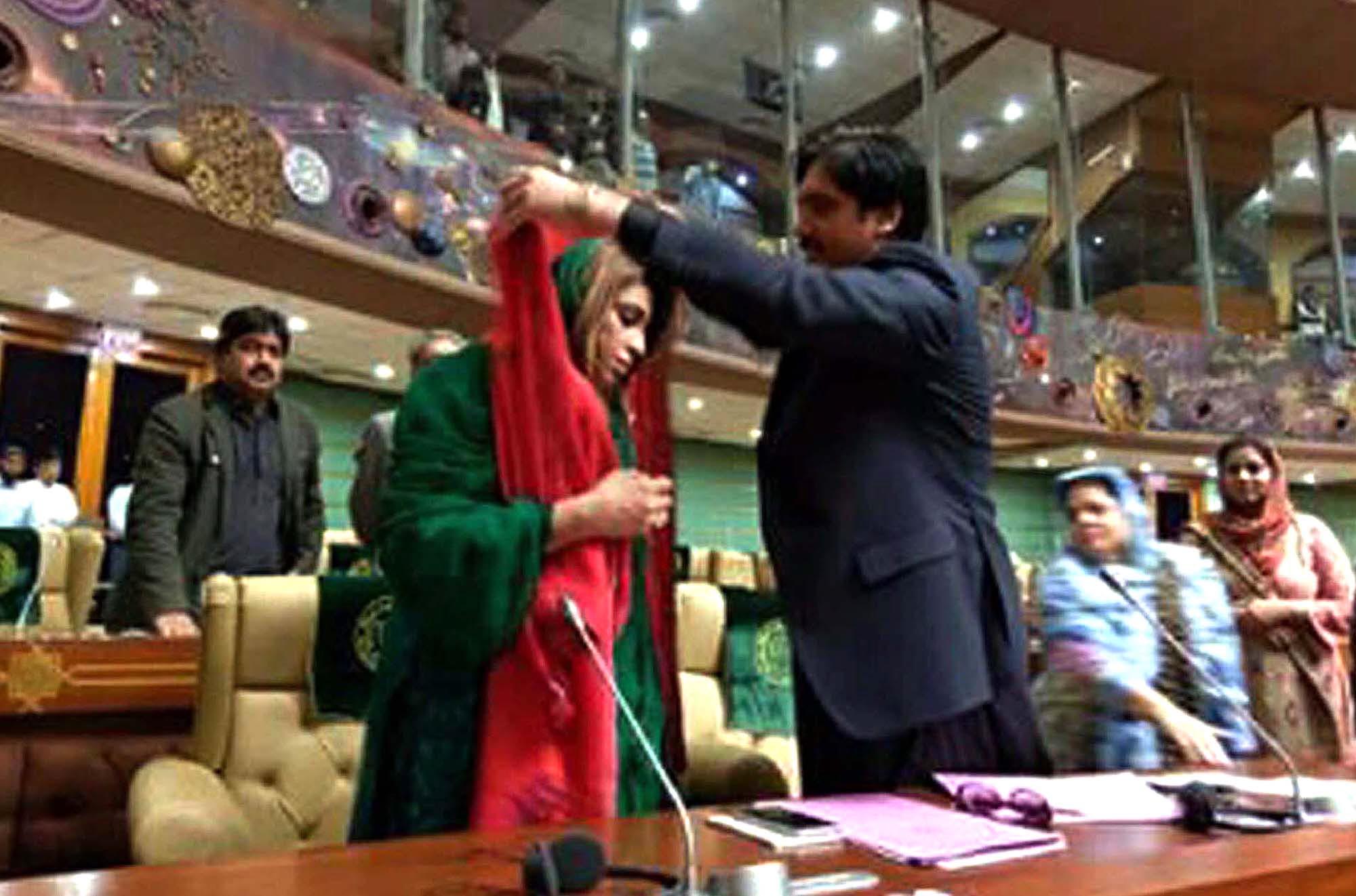 ---
KARACHI: A debacle that started in the Sindh Assembly three days ago over PPP Minister Imdad Pitafi's sexist remarks towards MPA Nusrat Sehar Abbasi came to an end on Monday when the latter 'forgave' him in the name of 'tradition'.

During Friday's session, Pitafi called Abbasi, who belongs to PML-Functional, a 'drama queen' and then told her to "please come to my chamber, I will tell you" in response to her tough questions about his ministry and insisting he read the answers in English. Apart from Pitafi, other PPP legislators were also thumping their desks in appreciation of his sexist comments. Even Chief Minister Murad Ali Shah kept mum.

Pitafi's comments were widely condemned by other lawmakers, including PPP leaders such as Nafisa Shah and Bilawal Bhutto. The party even served him a show-cause notice.

When the session started on Monday with Deputy Speaker Shehla Raza in the chair, Pitafi sought permission to speak on this issue. The opposition MPAs interrupted and demanded his removal instead, forcing Raza to adjourn the session for 10 minutes. When the house reconvened, a group of PPP women, led by MPA Shamim Mumtaz, accompanied Pitafi to Abbasi's seat and draped an ajrak over her shoulder as an apology.

"Though it is unforgettable but he draped a chador, which is wrapped around the heads of sisters in the Sindhi tradition," said Abbasi, during the noisy session as the opposition continued to raise a hue and cry. "I accept his apology on the condition that this practice is not repeated."

Earlier, the PML-F had demanded that the government sack the offending MPA. In fact, Abbasi came to the session on Monday with a bottle of petrol, threatening self-immolation unless Pitafi was sacked. However, an official claimed that Speaker Agha Siraj Durrani approached Pir Pagara, who happens to be his brother-in-law, to settle the issue.

According to officials privy to the development, PPP Chairperson Bilawal Bhutto had decided to send Pitafi packing by issuing him a show-cause notice but an influential party leader, who has also worked as information minister and now lives in Dubai, started lobbying for Pitafi. Before Monday's session, the PPP lawmakers agreed this was a minor issue which could be resolved if Pitafi apologised publicly. "We in Sindh can forget hundreds of deaths in the name of our tradition," said one lawmaker.

Setting a wrong precedent

Even though Abbasi forgave Pitafi, other lawmakers and civil society did not. "The minister went away scot-free," MQM MPA Diwan Chand Chawla told The Express Tribune. "Instead of having tears in his eyes, [Pitafi] was smiling while asking for pardon. I don't understand his apology drama."

Chawla said MPAs from the ruling PPP humiliate other MPAs as per routine and no one takes notice. "The Sindh Assembly is no longer a legislative forum but an 'Autaq of Wadeera' [feudal lord's guest house]. If this tradition of accepting apology without any punishment continues, then this practice will flourish," he said.

Meanwhile, Human Rights Commission of Pakistan Chairperson Zohra Yusuf called it 'weakness of the speaker' and 'defeat of the rules and procedures'. "They have continued the practice of humiliating honourable members, especially women, inside the session," she told The Express Tribune. "I think it is time the speaker and the PPP leadership came up with action rather than clapping on compromise."

PML-N's Sorath Thebo also demanded using the women harassment law to punish Pitafi. "Instead of following our traditions, the Sindh Assembly - which always takes a lead in making legislations - should have set a precedent of teaching a lesson to a minister who misbehaves with women," she said. "This is a globalised world but, unfortunately, we are still stuck to our traditions."

Meanwhile, PPP leaders are happy the issue has been swept under the rug. "This was the only solution and petty issues are resolved this way," said PPP Minister Fayaz Ali Butt.

Published in The Express Tribune, January 24th, 2017.
COMMENTS (1)
Comments are moderated and generally will be posted if they are on-topic and not abusive.
For more information, please see our Comments FAQ